Lobby
(redirected from division lobbies)
Also found in:
Dictionary
,
Thesaurus
,
Financial
.
lobby
1. a room or corridor used as an entrance hall, vestibule, etc.
2. Chiefly Brit a hall in a legislative building used for meetings between the legislators and members of the public
3. Chiefly Brit one of two corridors in a legislative building in which members vote
4. a group of persons who attempt to influence legislators on behalf of a particular interest
Collins Discovery Encyclopedia, 1st edition © HarperCollins Publishers 2005
Lobby
A space at the entrance to a building, theater, hotel, or other structure.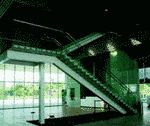 Illustrated Dictionary of Architecture Copyright © 2012, 2002, 1998 by The McGraw-Hill Companies, Inc. All rights reserved
The following article is from The Great Soviet Encyclopedia (1979). It might be outdated or ideologically biased.
Lobby
auxiliary premises in parliamentary and other government buildings, as well as in theaters and concert halls, designed for rest during breaks between sessions or during intermissions. Lobbies are also used for unofficial meetings and exchange of opinions and often serve as work areas for journalists. The expression "lobbying" characterizes behind-the-scenes deals made in capitalist legislative institutions by representatives of the ruling circles who are close to members of the institutions or to high government officials.
---
Lobby
the system of offices and agencies of the major monopolies assigned to legislative bodies of the USA. Lobbies exert direct pressure on legislators and state officials even to the point of bribery for the sake of the companies involved.
The Great Soviet Encyclopedia, 3rd Edition (1970-1979). © 2010 The Gale Group, Inc. All rights reserved.
lobby
A space at the entrance to a building, theater, etc.
McGraw-Hill Dictionary of Architecture and Construction. Copyright © 2003 by McGraw-Hill Companies, Inc.