dogleg stair
dogleg stair
Two flights of stairs that are parallel to each other with a half-landing in between. See also:
Stair
Illustrated Dictionary of Architecture Copyright © 2012, 2002, 1998 by The McGraw-Hill Companies, Inc. All rights reserved
dogleg stair, doglegged stair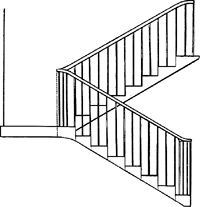 A half-turn stair which has no wellhole between successive flights; the rail and balusters of the upper and under flights fall in the same vertical plane.
McGraw-Hill Dictionary of Architecture and Construction. Copyright © 2003 by McGraw-Hill Companies, Inc.