drag strut
drag strut
A structural member used to transfer a lateral load across a building to some part of the vertical structural system.
compression rib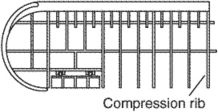 A special type of rib to replace compression strut in the wings. Such a rib has strong cap strips and webs designed to withstand compressive loads. Also called
drag strut, wing butt
, and
bulkhead rib
.