dram
Also found in:
Dictionary
,
Thesaurus
,
Medical
,
Acronyms
,
Wikipedia
.
dram:
see English units of measurementEnglish units of measurement,
principal system of weights and measures used in a few nations, the only major industrial one being the United States. It actually consists of two related systems—the U.S.
.....

Click the link for more information.

.

The Columbia Electronic Encyclopedia™ Copyright © 2013, Columbia University Press. Licensed from Columbia University Press. All rights reserved.

www.cc.columbia.edu/cu/cup/
The following article is from The Great Soviet Encyclopedia (1979). It might be outdated or ideologically biased.
Dram
(drachm; Russian drakhma, from Greek drachme).
(1) A unit in the now outmoded system of apothecaries' weights. An apothecaries' dram was one-eighth of an ounce and contained three scruples; the Russian apothecaries' dram was the equivalent of 3.732 g. In the English system of measurement an apothecaries' dram equaled 3.888 g.
(2) A fluidram, a measure of displacement used in the USA, equal to 3.6966 milliliters.
(3) In the avoirdupois system, a measure of weight equaling one-sixteenth of an ounce, 1.772 g.
The Great Soviet Encyclopedia, 3rd Edition (1970-1979). © 2010 The Gale Group, Inc. All rights reserved.
dram
[

dram

]

(mechanics)

A unit of mass, used in the apothecaries' system of mass units, equal to ⅛ apothecaries' ounce or 60 grains or 3.8879346 grams. Also known as apothecaries' dram (dram ap); drachm (British).

A unit of mass, formerly used in the United Kingdom, equal to ¹⁄₁₆ ounce (avoirdupois) or approximately 1.77185 grams. Abbreviated dr.
---
DRAM
[

′dē'ram

]

(computer science)

McGraw-Hill Dictionary of Scientific & Technical Terms, 6E, Copyright © 2003 by The McGraw-Hill Companies, Inc.
dram
1. one sixteenth of an ounce (avoirdupois). 1 dram is equivalent to 0.0018 kilogram
2. US one eighth of an apothecaries' ounce; 60 grains. 1 dram is equivalent to 0.0039 kilogram
3. a small amount of an alcoholic drink, esp a spirit; tot
4. the standard monetary unit of Armenia, divided into 100 lumas
Collins Discovery Encyclopedia, 1st edition © HarperCollins Publishers 2005
DRAM
This article is provided by FOLDOC - Free Online Dictionary of Computing (foldoc.org)
dynamic RAM
The most common type of computer memory and generally available today in the form of synchronous dynamic RAM chips (see SDRAM). Most all volatile memory is dynamic RAM because it uses only one transistor and one storage capacitor for each bit. It is denser and much less costly than "static RAM," its faster counterpart.

Dynamic RAM Is a Total Loser
Unlike non-volatile firmware chips (flash, ROM, EEPROM, etc.), which hold their contents when the power is turned off, both dynamic RAM (DRAM) and static RAM (SRAM) require constant power.

The capacitors in a dynamic RAM chip are electrical storage tanks that do a poor job of holding a charge. They constantly leak, and the memory chip would lose its content were it not for the refresh circuitry that continuously re-energizes the capacitors approximately 15 times per second.

In 1968, dynamic RAM was patented by IBM, and the first commercial chips came from Intel and Mostek in the early 1970s with a capacity of 1,000 bits. See static RAM and memory types.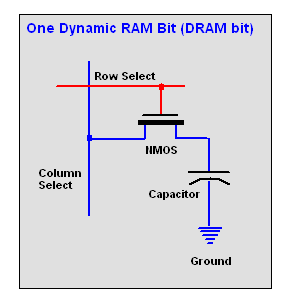 A Dynamic RAM Cell
DRAM cells are very simple. The combination of voltage on the row and column lines charges a capacitor. The only problem is that the capacitors keep losing their charges, and the bits must be read and re-written to the same state several times each second.
Copyright © 1981-2019 by The Computer Language Company Inc. All Rights reserved. THIS DEFINITION IS FOR PERSONAL USE ONLY. All other reproduction is strictly prohibited without permission from the publisher.