bead
(redirected from drawing a bead on)
Also found in:
Dictionary
,
Thesaurus
,
Medical
,
Idioms
.
bead
1. Architect Furniture a small convex moulding having a semicircular cross section
2. Chem a small solid globule made by fusing a powdered sample with borax or a similar flux on a platinum wire. The colour of the globule serves as a test for the presence of certain metals (bead test)
3. Metallurgy a deposit of welding metal on the surface of a metal workpiece, often used to examine the structure of the weld zone
4. RC Church one of the beads of a rosary
bead
[

bēd

]

(computer science)

A small subroutine.

(design engineering)

A projecting rim or band.

(electromagnetism)

A glass, ceramic, or plastic insulator through which passes the inner conductor of a coaxial transmission line and by means of which the inner conductor is supported in a position coaxial with the outer conductor.

(metallurgy)

The drop of precious metal obtained by cupellation in fire assaying.
bead
2.
A narrow wood strip, molded on one edge, against which a door or window sash closes; a
stop bead
.
3.
A strip of metal or wood used around the periphery of a pane of glass to secure it in a frame, ventilator, or sash; a
stop
4.
A pearl-shaped carved decoration on moldings or other ornaments, usually in series, or in conjunction with other shapes; a
beading
. Also see
bead and reel molding
.
7.
The act of carving or running a bead;
beading
.
8. In metal roofing or flashing, the shape formed by folding a narrow strip of the edge flat or rolling it into a tube in order to stiffen or fasten the metal.
9. A factory-formed light-gauge metal strip having one or two expanded or short perforated flanges and variously shaped noses; used at the perimeter of plastered surface as a casing bead or plaster stop, and at corners to reinforce the edge.
10. A hardened drop of excess paint or varnish.
11. A narrow, convex strip of sealant, such as caulking or glazing compound.
---
bead, butt and square
Similar to
bead and butt
but having the panels flush on the beaded face only, and showing square reveals on the other.
bead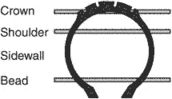 i
. A rounded ridge at the end of a tube for carrying fluids into aircraft.
ii
. The high-strength carbon-steel wire bundles that give strength and stiffness to aircraft tires.
iii
. The unwanted ridge of filler metal that sticks up above the surface of the metal that has been welded.
iv
. The central point of a fixed (ring and bead) sight. The bead is ahead of the ring.
bead
(1) A small programming subroutine. A sequence of beads that are strung together is called a "thread."

(2) The insulator surrounding the inner wire of a coaxial cable.