dripstone
(redirected from dripstones)
Also found in:
Dictionary
,
Thesaurus
.
dripstone:
see stalactite and stalagmitestalactite

and

stalagmite
, mineral forms often found in caves; sometimes collectively called dripstone. A stalactite is an icicle-shaped mass of calcite attached to the roof of a limestone cavern.
.....

Click the link for more information.

.
dripstone
[

′drip'stōn

]

(geology)

A cave feature, such as a stalagmite, which is formed by precipitation of calcium carbonate or another mineral from dripping water.
dripstone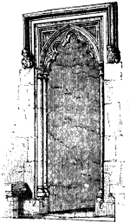 A
drip cap
made of stone.
---
headmold, dripstone, head molding, hood-mold, weather molding
The molding carried around or over the head of a door or window.