drogue
Also found in:
Dictionary
,
Thesaurus
,
Wikipedia
.
drogue
[

drōg

]

(aerospace engineering)

A small parachute attached to a body for stabilization and deceleration. Also known as deceleration parachute.

A funnel-shaped device at the end of the hose of a tanker aircraft in flight, to receive the probe of another aircraft that will take on fuel.

(engineering)

A device, such as a sea anchor, usually shaped like a funnel or cone and dragged or towed behind a boat or seaplane for deceleration, stabilization, or speed control.

A current-measuring assembly consisting of a weighted current cross, sail, or parachute and an attached surface buoy. Also known as drag anchor; sea anchor.

McGraw-Hill Dictionary of Scientific & Technical Terms, 6E, Copyright © 2003 by The McGraw-Hill Companies, Inc.
drogue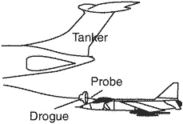 i
. A funnel-shaped part at the end of the hose of a tanker aircraft used in air refueling. It drags out the hose, stabilizes it, and prepares it to receive the probe of the receiving aircraft.
ii
. A fabric cone used as a windsock.
iii
. A parachute meant to extract the main canopy of a parachute. A parachute to stabilize the ejection seat after it has cleared the aircraft.
iv
. Fabric that is towed behind an aircraft as a target for air-to-air and surface-to-air gunnery practice.
An Illustrated Dictionary of Aviation Copyright © 2005 by The McGraw-Hill Companies, Inc. All rights reserved