droop
(redirected from droopingly)
Also found in:
Dictionary
,
Thesaurus
,
Medical
.
droop
The deviation from a preset value of a controlled liquid level, temperature, variable pressure, or differential pressure (at minimum controllable flow) when the flow through a regulator is gradually increased from its minimum controllable flow to its rated capacity.
McGraw-Hill Dictionary of Architecture and Construction. Copyright © 2003 by McGraw-Hill Companies, Inc.
droop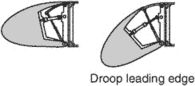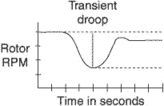 i
. A downward curvature of the leading edge of an airfoil to provide increased camber.
ii
. A progressive decrease in RPM that occurs when a fuel control flyweight governor spring is extended and made weaker. It takes less flyweight force to come to an equilibrium with the weaker spring force and consequently a lower RPM will result.
iii
. The inability of the engine power to increase as the rotor pitch is increased, causing the rotor to slow down.
An Illustrated Dictionary of Aviation Copyright © 2005 by The McGraw-Hill Companies, Inc. All rights reserved