duct fan
tubeaxial fan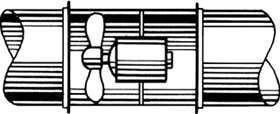 1. A fan consisting of a propeller or disk-type wheel within a cylinder; may be either belt-driven or connected directly to a motor.
2.
A type of
axial-flow fan
which is similar to a
vaneaxial fan
but without downstream guide vanes. Lower in efficiency than the vaneaxial fan, but also lower in cost.