jacket
(redirected from dust jacket)
Also found in:
Dictionary
,
Thesaurus
,
Medical
,
Acronyms
,
Wikipedia
.
jacket
Engineering
1. any exterior covering or casing, such as the insulating cover of a boiler
2. the part of the cylinder block of an internal-combustion engine that encloses the coolant
Collins Discovery Encyclopedia, 1st edition © HarperCollins Publishers 2005
The following article is from The Great Soviet Encyclopedia (1979). It might be outdated or ideologically biased.
Jacket
a covering, usually removable, of a book or booklet in the form of a sheet with flaps. It is generally made of heavy paper coated for purposes of reinforcement or covered with a transparent synthetic film that also improves the jacket's appearance. Jackets are sometimes made from polymer films. Originally, jackets were used to protect the bindings of expensive editions from damage; they were later used for purposes of publicity as well. The jacket sometimes serves a purely aesthetic purpose.
The Great Soviet Encyclopedia, 3rd Edition (1970-1979). © 2010 The Gale Group, Inc. All rights reserved.
jacket
[

′jak·ət

]

(mechanical engineering)

The space around an engine cylinder through which a cooling liquid circulates.

(nucleonics)

A thin container for one or more fuel slugs, used to prevent the fuel from escaping into the coolant of a reactor. Also known as can; cartridge.

(ordnance)

Cylinder of steel covering and strengthening the breech end of a gun or howitzer tube.

The water jacket on some machine guns.

(petroleum engineering)

The support structure of a steel offshore production platform; it is fixed to the seabed by piling, and the superstructure is mounted on it.

McGraw-Hill Dictionary of Scientific & Technical Terms, 6E, Copyright © 2003 by The McGraw-Hill Companies, Inc.
jacket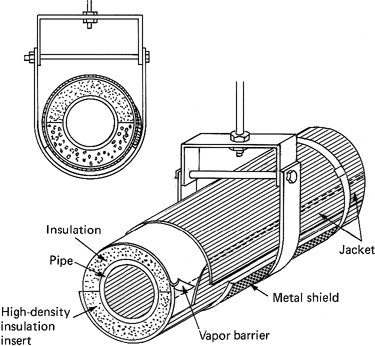 1. A metal or cloth covering over the heat insulation which is applied to exposed heating pipes and ducts.
2. An outer casing around a pipe or vessel, the space between being filled with a fluid for cooling, heating, or maintaining a fixed temperature.
McGraw-Hill Dictionary of Architecture and Construction. Copyright © 2003 by McGraw-Hill Companies, Inc.
jacket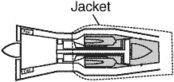 A metal shroud used to insulate a portion of the hot section of a gas turbine engine. A jacket prevents heat damage to the aircraft structure.
An Illustrated Dictionary of Aviation Copyright © 2005 by The McGraw-Hill Companies, Inc. All rights reserved
jacket
A plastic housing that contains a floppy disk. The 5.25" disk is built into a flexible jacket; the 3.5" disk uses a rigid jacket.

Copyright © 1981-2019 by The Computer Language Company Inc. All Rights reserved. THIS DEFINITION IS FOR PERSONAL USE ONLY. All other reproduction is strictly prohibited without permission from the publisher.