die
(redirected from dying)
Also found in:
Dictionary
,
Thesaurus
,
Medical
,
Legal
,
Financial
,
Idioms
,
Wikipedia
.
die
die,
any of various devices used for drawing wire, and for blanking, bending, cutting, machine forging, and embossing. Dies used for striking, or stamping, coins and medals are cut in intaglio, one for the front, another for the back, of the coin. Such dies were used as early as c.800 B.C. in Greece. Diemaking, or diesinking, formerly entirely a hand process in which the graver (a cutting tool), riffler (a file), and chisel were employed, has been accelerated in modern times by the use of diemaking machines supplemented by hand finishing. A punch, or male die, is commonly made as the counterpart in relief of the original die, or matrix; both are preserved as models, and duplicates are made from them for working dies. Sheet metal or other material is blanked (cut) out, shaped, or embossed between the dies by power-operated levers or drop hammers, or by
die-casting
. The die used for drawing wire or extruding rods is made of hard metal with a hole or a series of progressively smaller holes through which the metal is forced. For making screws or threading pipe a hollow hard metal die with internal threading is used.
The Columbia Electronic Encyclopedia™ Copyright © 2022, Columbia University Press. Licensed from Columbia University Press. All rights reserved.
die
[

dī

]

(design engineering)

A tool or mold used to impart shapes to, or to form impressions on, materials such as metals and ceramics.

(electronics)

The tiny, sawed or otherwise machined piece of semiconductor material used in the construction of a transistor, diode, or other semiconductor device; plural is dice.

(medicine)

To pass from physical life.

(mining engineering)

McGraw-Hill Dictionary of Scientific & Technical Terms, 6E, Copyright © 2003 by The McGraw-Hill Companies, Inc.
die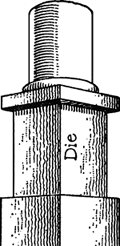 1.
The middle portion of a pedestal between the base (or plinth) and the surbase; also called a
dado
.
2. A tool for cutting threads on pipe, screws, etc.
McGraw-Hill Dictionary of Architecture and Construction. Copyright © 2003 by McGraw-Hill Companies, Inc.
die
1.
a. a shaped block of metal or other hard material used to cut or form metal in a drop forge, press, or similar device
b. a tool of metal, silicon carbide, or other hard material with a conical hole through which wires, rods, or tubes are drawn to reduce their diameter
2. an internally-threaded tool for cutting external threads
3. a casting mould giving accurate dimensions and a good surface to the object cast
4. Architect the dado of a pedestal, usually cubic
Collins Discovery Encyclopedia, 1st edition © HarperCollins Publishers 2005
die
(jargon)
die
(electronics)

This article is provided by FOLDOC - Free Online Dictionary of Computing (foldoc.org)
die
An unpackaged, bare chip. A die is the formal term for the square of silicon containing an integrated circuit that has been cut out of the wafer. Die is singular, and dice is plural. See MCM, wafer and chip.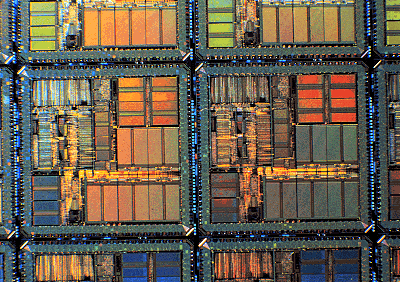 Dice on a Wafer
This picture of several dice on the wafer shows the various subsystems on each die (chip). This image is called a "beauty shot," because the different areas are colored for presentation. (Image courtesy of Texas Instruments, Inc.)
Copyright © 1981-2019 by The Computer Language Company Inc. All Rights reserved. THIS DEFINITION IS FOR PERSONAL USE ONLY. All other reproduction is strictly prohibited without permission from the publisher.