electronic cigarette
(redirected from e-smoking)
Also found in:
Dictionary
,
Medical
.
electronic cigarette:
see e-cigarettee-cigarette
or electronic cigarette,
a device that produces an aerosol from a liquid containing nicotine or another active ingredient, allowing it to be inhaled in a manner similar to smoking a cigarette.
.....

Click the link for more information.

.

The Columbia Electronic Encyclopedia™ Copyright © 2013, Columbia University Press. Licensed from Columbia University Press. All rights reserved.

www.cc.columbia.edu/cu/cup/
e-cigarette
(Electronic-CIGARETTE) A cigarette-shaped canister filled with liquid nicotine in various potencies. A vapor is inhaled, giving the person the satisfaction of a tobacco cigarette. The user's inhalation triggers the unit to heat and atomize the liquid into a vapor. Available in rechargeable and disposable varieties, a light glows when the unit is vaporizing.

Although many people use them to help quit or cut down on smoking, e-cigarettes are designed as a tobacco substitute, and vendors naturally want perpetual customers. For regular users, their advantage is twofold: they are healthier because there is no smoke and no tar, and secondly, people are able to use them in many venues where cigarettes are prohibited. Called "vaping" (for vaporizing), the various exhaled vapor aromas are mild, pleasing and nowhere near as unsavory to other people as is tobacco cigarette smoke.

The Liquid Content
Called "e-liquid," "e-juice" or "smoke juice," the liquid in an e-cigarette cartridge contains propylene glycol (PG) or vegetable glycerin (VG), both used as food additives, along with flavoring and nicotine. The propylene glycol is thinner than the vegetable glycerin and tends to keep the heating element cleaner; however, some people can be allergic to it. The vegetable glycerin causes fewer reactions, creates thicker plumes of vapor and provides a weaker throat hit. Some brands use a mixture of the two. See e-joint.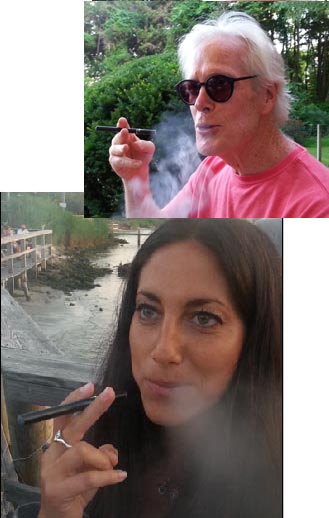 The blu Brand
Available in various flavors, glycerin-based blu brand cartridges last about as long as a pack of regular cigarettes. The batteries are rated at a thousand recharges and the tip glows blue when vaporizing.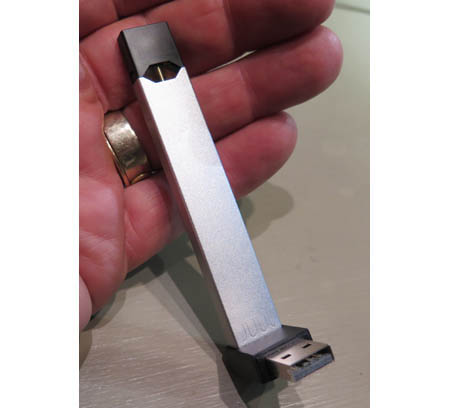 A JUUL E-Cig
With the charging adapter attached at the bottom, the popular JUUL unit looks more like a strange USB drive than an e-cigarette. At the top, the nicotine cartridge is inserted.
Copyright © 1981-2019 by The Computer Language Company Inc. All Rights reserved. THIS DEFINITION IS FOR PERSONAL USE ONLY. All other reproduction is strictly prohibited without permission from the publisher.