eagle
(redirected from eagling)
Also found in:
Dictionary
,
Thesaurus
,
Medical
,
Legal
,
Financial
,
Idioms
.
eagle,
common name for large predatory birds of the family Accipitridae (hawkhawk,
name generally applied to the smaller members of the Accipitridae, a heterogeneous family of diurnal birds of prey, such as the eagle, the kite, and the Old World vulture.
.....

Click the link for more information.

family), found in all parts of the world. Eagles are similar to the buteos, or buzzard hawks, but are larger both in length and in wingspread (up to 7 1-2 ft/228 cm) and have beaks nearly as long as their heads. They are solitary birds, said to mate for life. The nest, or aerie, of twigs and sticks is built at a vantage point high in a tree or on a cliff in a permanent feeding territory and is added to year after year, the refuse of the previous nests decomposing beneath the new additions. Nests can become enormous, measuring up to ten feet across and weighing well over 1,000 pounds. The eaglets (usually two) do not develop adult markings until their third year, when they leave parental protection and seek their own mates and territories.

The American bald (in the sense of white, as in piebald), or white-headed, eagle (Haliaeetus leucocephalus) is found in all parts of North America near water and feeds chiefly on dead fish (sometimes robbing the ospreyosprey
, common name for a fish-eating bird of prey found near water in most parts of the world. The osprey, or fish hawk, Pandion haliaetus, has brown upperparts and a grayish white head and underparts.
..... Click the link for more information. 's catch) and rodents. It is dark brown with white head, neck, and tail plumage. The northern subspecies (found chiefly in Canada) is slightly larger than the southern, which ranges throughout the United States. With only 417 known breeding pairs in the 48 contiguous states in 1963, the bald eagle population was dwindling alarmingly; a decade later they were placed on the endangered species list. In one of the greatest success stories in species recovery, conservation methods such as the banning of DDTDDT
or 2,2-bis(p-chlorophenyl)-1,1,1,-trichloroethane, chlorinated hydrocarbon compound used as an insecticide. First introduced during the 1940s, it killed insects that spread disease and fed on crops, and Swiss scientist Paul Müller was awarded the 1948 Nobel Prize
..... Click the link for more information. and the prohibition against eagle hunting had by the beginning of the 21st cent. increased the breeding population in the lower 48 states to some 5,000 pairs. In 1995 the bald eagle was removed from endangered status, and in 2007, when there were nearly 10,000 breeding pairs in the lower 48, it was removed from threatened status. The bald eagle (and golden eagle) continue to be protected by federal law.

The golden, or mountain, eagle (genus Aquila—whence aquiline, meaning eaglelike), the most widely distributed eagle, is widespread in the Northern Hemisphere; in the United States it is found mostly in the West. Unlike the bald eagle, it is an aggressive predator. In Asia it is trained to hunt small game (see falconryfalconry
, sport of hunting birds or small animals with falcons or other types of hawks; eagles are used in some parts of the world. It was known to the ancient Chinese, Persians, and Egyptians. Falconry probably spread from Asia to Eastern Europe and then to Western Europe.
..... Click the link for more information. ). The adult is sooty brown with tawny head and neck feathers; unlike those of the bald eagle, its legs are feathered to the toes. The white-tailed (or gray) and Steller's sea eagles (also in the genus Haliaeetus) are native to colder areas of the Northern Hemisphere; the imperial or king eagles to S Europe and Asia; and the rare monkey-eating or Philippine eagle to the Philippines. The harpy, or harpy eagle (Harpia harpyja), of Central and South America, the largest (38 in./95 cm long) of the hawks, eats macaws and sloths. It was named for the winged monsters of Greek myth and was called "winged wolf" by the Aztecs. New Zealand's extinct Haast's eagle, which had a 10-ft (3-m) wingspan and weighed 30% to 40% more than the harpy, was the top predator in the archipelago's ecosystem prior to the arrival of humans.

Eagles—impressive both in size and for their fearsome beauty—have long been symbols of royal power and have appeared on coins, seals, flags, and standards since ancient times. The eagle was the emblem of one of the Ptolemies of Egypt and was borne on the standards of the Roman armies and of Napoleon's troops. The American bald eagle became the national emblem of the United States by act of Congress in 1782. In folklore the eagle's ability to carry off prey, including children (e.g., the legend of Ganymede), has been exaggerated; even the powerful golden eagle can lift no more than 8 lb (3.6 kg).

Eagles are classified in the phylum ChordataChordata
, phylum of animals having a notochord, or dorsal stiffening rod, as the chief internal skeletal support at some stage of their development. Most chordates are vertebrates (animals with backbones), but the phylum also includes some small marine invertebrate animals.
..... Click the link for more information. , subphylum Vertebrata, class Aves, order Accipitriformes, family Accipitridae.

The Columbia Electronic Encyclopedia™ Copyright © 2013, Columbia University Press. Licensed from Columbia University Press. All rights reserved.

www.cc.columbia.edu/cu/cup/
eagle
Any of various large birds of prey, characterized by a powerful hooked bill, and long broad wings; used as emblems, insignias, seals, and ornamental sculpture.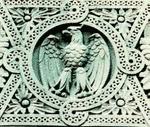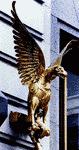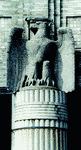 See also: Ornament

Illustrated Dictionary of Architecture Copyright © 2012, 2002, 1998 by The McGraw-Hill Companies, Inc. All rights reserved
Eagle
(religion, spiritualism, and occult)

The constellation Aquila is an eagle, but in astrology it is sometimes taken as an alternate term for the sign Scorpio. The notion here is that Scorpio rules the principle of metamorphosis and regeneration. The lowly, stinging scorpion is an adequate symbol for the unregenerate Scorpio but does not appropriately describe transformed members of this sign. The image of the noble eagle, however, captures the highest potential of Scorpio.

The Astrology Book, Second Edition © 2003 Visible Ink Press®. All rights reserved.
What does it mean when you dream about an eagle?
Eagles fall under the larger meaning of birds, especially as spiritual symbols. Eagles are also associated with the sun, and thus have solar symbolism. A common mythological motif is an eagle in combat with an earthbound animal, which symbolizes the spirit or the mind (the eagle) struggling with more mundane needs or desires. Eagles are also traditionally associated with nobility (especially with kings) and authority, which in dreams can be a symbol for the father or for the animus. Other traits commonly associated with eagles include pride, fierceness, and courage.
The Dream Encyclopedia, Second Edition © 2009 Visible Ink Press®. All rights reserved.
eagle
[

′ē·gəl

]

(vertebrate zoology)

Any of several large, strong diurnal birds of prey in the family Accipitridae.

McGraw-Hill Dictionary of Scientific & Technical Terms, 6E, Copyright © 2003 by The McGraw-Hill Companies, Inc.
eagle
A pediment of a Greek building.
McGraw-Hill Dictionary of Architecture and Construction. Copyright © 2003 by McGraw-Hill Companies, Inc.
eagle
attribute of Zeus, thus of authority. [Art: Hall, 109]
---
eagle
widely used as national symbol. [Animal Folklore: Jobes, 213]
---
eagle
symbolic carrier of God's word to all. [Christian Symbol-ism: Appleton, 35]
---
eagle
symbol represents the sun. [Gk. Myth.: Brewer Dictionary, 358]
Allusions—Cultural, Literary, Biblical, and Historical: A Thematic Dictionary. Copyright 2008 The Gale Group, Inc. All rights reserved.
eagle
1.
any of various birds of prey of the genera
Aquila, Harpia,
etc. (see
golden eagle
,
harpy eagle
), having large broad wings and strong soaring flight: family
Accipitridae
(hawks, etc.)
2. Golf a score of two strokes under par for a hole
3. a former US gold coin worth ten dollars: withdrawn from circulation in 1934
Collins Discovery Encyclopedia, 1st edition © HarperCollins Publishers 2005
Eagle
A
dBASE
-like dialect bundled with Emerald Bay, sold by Migent from 1986-1988, later renamed
Vulcan
when Wayne Ratliff reacquired the product.
This article is provided by FOLDOC - Free Online Dictionary of Computing (foldoc.org)
Eagle
(dreams)

Carl Jung said that birds represent thoughts while birds in flight symbolize moving and changing thoughts. Birds are generally associated with freedom and abandon. In old dream interpretation books, birds are considered lucky omens. Doves and eagles are generally spiritual symbols. Your dream depends on its details, but if the birds in your dream were flying free, it may be symbolic of spiritual, psychological, or physical freedom. An eagle is a powerful bird and the unconscious message may be prosperity, success, and liberation from tedium. The eagle is also a bird of prey and some negative connotations can be made. If the eagle is on the attack or the dream is frightening, reflect on your own aggressive and predatory thoughts and tendencies.

Bedside Dream Dictionary by Silvana Amar Copyright © 2007 by Skyhorse Publishing, Inc.