earphone
Also found in:
Dictionary
,
Thesaurus
,
Wikipedia
.
earphone
a device for converting electric currents into sound waves, held close to or inserted into the ear
Collins Discovery Encyclopedia, 1st edition © HarperCollins Publishers 2005
The following article is from The Great Soviet Encyclopedia (1979). It might be outdated or ideologically biased.
Earphone
a miniature device for listening to dictaphone and magnetic tape recordings, radio broadcasts, and the simultaneous translation of speeches. Earphones are similar in purpose to headphones. They contain one or two miniature electromagnetic or piezoelectric transducers, which convert electrical oscillations into an acoustic signal, and extensible acoustic conductors; the latter are connected to the transducers and have plastic tips that are placed in the ear. Unlike headphones, earphones do not have a headband that grasps the upper part of the head and are therefore more convenient to use.
The Great Soviet Encyclopedia, 3rd Edition (1970-1979). © 2010 The Gale Group, Inc. All rights reserved.
earphone
[

′ir'fōn

]

(engineering acoustics)

An electroacoustical transducer, such as a telephone receiver or a headphone, actuated by an electrical system and supplying energy to an acoustical system of the ear, the waveform in the acoustical system being substantially the same as in the electrical system.

A small, lightweight electroacoustic transducer that fits inside the ear, used chiefly with hearing aids.

McGraw-Hill Dictionary of Scientific & Technical Terms, 6E, Copyright © 2003 by The McGraw-Hill Companies, Inc.
earphone
An electronic device by which acoustic signals are received. Earphones are a part of headsets and helmets used by aircrew and passengers. A more technical definition—it is an electroacoustic transducer converting an electrical signal to an acoustical signal, which is intended to be closely coupled acoustically to the ear.
An Illustrated Dictionary of Aviation Copyright © 2005 by The McGraw-Hill Companies, Inc. All rights reserved
earphones
Small headphones in each ear. Also called "earbuds," earphones stay put by resting inside the ear or by being inserted slightly into the ear canal or with hooks that wrap around the ear. Another variation is an earphone that clips onto the earlobe. Contrast with over-the-ear headphones.

Ear Monitors
High-quality earphones called "ear monitors" have been used by performers on stage to hear instruments as well as cues. They are also available with custom-molded inserts like hearing aids and may be called "custom in ear monitors" (CIEMs). See headphones, headset, EarPods, AirPods, air tube headset and mini-phone connector.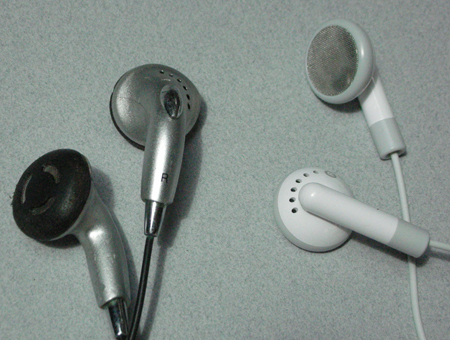 Stock Earbuds
Earbuds like these come standard with music players and smartphones. Although providing decent sound quality, higher-end earphones and especially headphones offer a better audio experience.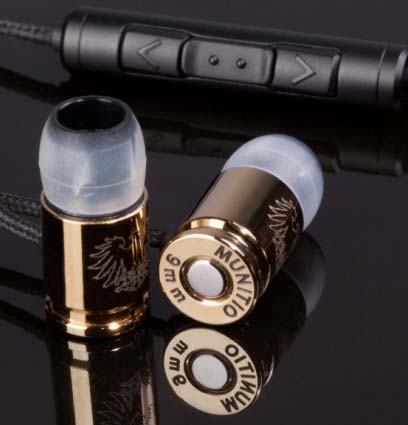 High-Performance Earphones
For professionals and serious music lovers, high-quality earphones deliver more listening enjoyment. These Munitio NINES use 9mm drivers, a 3-button control for Apple devices and small, medium and large tips for different size ear canals. (Image courtesy of BDA, Inc., www.munitio.com)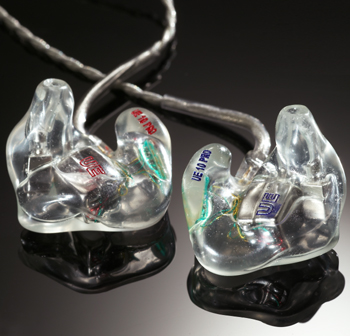 Custom Fit
Employing the same process for hearing aids, these Custom Ear Monitors are made from impressions of the wearer's ears. The custom fit provides greater comfort and eliminates more ambient noise. (Image courtesy of Ultimate Ears, a division of Logitech, www.ultimateears.com)
Copyright © 1981-2019 by The Computer Language Company Inc. All Rights reserved. THIS DEFINITION IS FOR PERSONAL USE ONLY. All other reproduction is strictly prohibited without permission from the publisher.