eddy current inspection
Also found in:
Acronyms
.
eddy current inspection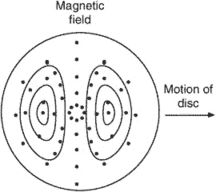 A nondestructive testing technique (NDT) that interrogates a component for surface inconsistencies and conditions such as hardness, conductivity, etc. It can only be applied to conductive materials. Eddy current testing generates small alternating magnetic fields on the surface of the component, and these magnetic fields interact with conductive components to generate small eddy currents on the surface. These currents in turn generate their own secondary alternating magnetic fields that interact with the primary fields. By analyzing the interaction, the defects and the changes in the conductivity and the permeability of the surface can be analyzed. The detection limits of the technique depend upon the surface condition of the piece under examination. It is normally not possible to detect defects that are smaller than about three times the surface roughness of the component. The detectable length of defects depends upon the integrity of the scan pattern.
An Illustrated Dictionary of Aviation Copyright © 2005 by The McGraw-Hill Companies, Inc. All rights reserved