ejector
Also found in:
Dictionary
,
Thesaurus
,
Medical
,
Wikipedia
.
ejector
[

ē′jek·tər

]

(engineering)

Any of various types of jet pumps used to withdraw fluid materials from a space. Also known as eductor.

A device that ejects the finished casting from a mold.

(ordnance)

A device in the breech mechanism of a gun, rifle, or other firearm which automatically throws out an empty cartridge case, or unfired cartridge, from the breech or receiver.

McGraw-Hill Dictionary of Scientific & Technical Terms, 6E, Copyright © 2003 by The McGraw-Hill Companies, Inc.
The following article is from The Great Soviet Encyclopedia (1979). It might be outdated or ideologically biased.
Ejector
a device in which kinetic energy is transferred from a medium that is moving at high velocity to another medium. The energy is transferred as the media are mixed (seeJET APPARATUS). Ejectors are used in jet and vacuum pumps. They are widely used as mixers in the chemical and petroleum-refining industries.
REFERENCES
Sokolov, E. Ia., and N. M. Zinger. Struinye apparaty, 2nd ed. Moscow, 1970.
Gubin, M. F., Iu. N. Gornostaev, and K. A. Liubitskii. Primenenie ezhektorov na gidroelektrostantsiiakh. Moscow, 1971.
The Great Soviet Encyclopedia, 3rd Edition (1970-1979). © 2010 The Gale Group, Inc. All rights reserved.
ejector, ejector pump
1.A type of pump for ejecting liquid, as from a sump; induces fluid flow by entraining the liquid in the flow of a stream of air, steam, or water.
---
sump pump, ejector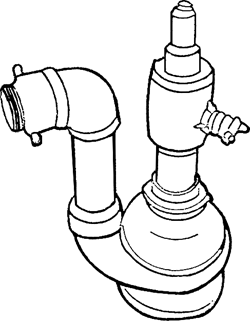 A pump used to remove the accumulated waste in a
sump.
McGraw-Hill Dictionary of Architecture and Construction. Copyright © 2003 by McGraw-Hill Companies, Inc.
ejector
i. A form of jet pump used to transfer fluids from one location to another. Ejectors are normally used in the feeder or the main tank, in which the booster pump is installed to ensure that this tank is never empty. The ejectors suck in fuel from the other tanks.
ii. Any device to eject something (e.g., links of gun ammunition in a belt are ejected from the gun into the aircraft fuselage or the atmosphere by an ejector).
An Illustrated Dictionary of Aviation Copyright © 2005 by The McGraw-Hill Companies, Inc. All rights reserved