electric power
Also found in:
Dictionary
,
Thesaurus
,
Medical
,
Wikipedia
.
power, electric
Sources of Electrical Energy
Steam as an Energy Source
Environmental Concerns
The heat generated by an electric-power plant that is not ultimately converted into electrical energy is called waste heat. The environmental impact of this waste is potentially catastrophic, especially when, as is often the case, the heat is absorbed by streams or other bodies of water. Cooling towers help to dispose waste heat into the atmosphere. Associated with nuclear plants, in addition to the problem of waste heat, are difficulties attending the disposal and confinement of reaction products that remain dangerously radioactive for many thousands of years and the adjustment of such plants to variable demands for power. Public concern about such issues—fueled in part by the accidents at the Three Mile Island nuclear plant in Harrisburg Pennsylvania in 1979, and the nuclear plant explosion in the Soviet Union at Chernobyl in 1986—forced the U.S. government to introduce extensive safety regulations for nuclear plants. Partly because of those regulations, nuclear plants are proving to be uneconomical. Several are being shut down 04/96and replaced by conventionally fueled plants.
Alternative Energy Sources
Fuel cells develop electricity by direct conversion of hydrogen, hydrocarbons, alcohol, or other fuels, with an efficiency of 50% to 60%. Although they have been used to produce electric power in space vehicles and some terrestrial locations, several problems have kept them from being widely used. Most important, the catalyst, which is an important component of a fuel cell, especially one that is operating at around room temperature, is very expensive. Controlled nuclear fusion could provide a virtually unlimited source of heat energy to produce steam in generating plants; however, many problems surround its development, and no appreciable contribution is expected from this source in the near future.
Solar energy has been recognized as a feasible alternative. It has been suggested that efficient collection of the solar energy incident on 14% of the western desert areas of the United States would provide enough electricity to satisfy current demands. Two main solar processes could be used. Photovoltaic cells (see solar cell) convert sunlight directly into electrical energy. Another method would use special coatings that absorb sunlight readily and emit infrared radiation slowly, making it possible to heat fluids to 1,000℉ (540℃) by solar radiation. The heat in turn can be converted to electricity. Some of this heat would be stored to allow operation at night and during periods of heavy cloud cover. The projected efficiency of such a plant would be about 30%, but this fairly low efficiency must be balanced against the facts that energy from the sun costs nothing and that the waste heat from such a plant places virtually no additional burden on the environment. The principal problem with this and other exotic systems for generating electricity is that the time needed for their implementation may be considerable.
Windmills, once widely used for pumping water, have become viable for electric-power generation because of advances in their design and the development of increasingly efficient generators. Windmill "farms," at which rows of windmills are joined together as the source of electrical energy, serve as a significant, though minor, source of electrical energy in coastal and plains areas. However, the vagaries of the wind make this a difficult solution to implement on a large scale.
See also energy, sources of.
Transmission of Electrical Energy
Electrical energy is of little use unless it can be made available at the place where it is to be used. To minimize energy losses from heating of conductors and to economize on the material needed for conductors, electricity is usually transmitted at the highest voltages possible. As modern transformers are virtually loss free, the necessary steps upward or downward in voltage are easily accomplished. Transmission lines for alternating current using voltages as high as 765,000 volts are not uncommon. For voltages higher than this it is advantageous to transmit direct current rather than alternating current. Recent advances in rectifiers, which turn alternating current into direct current, and inverters, which convert direct into alternating, have made possible transmission lines that operate at 800,000 volts and above. Such lines are still very expensive, however.
Electric utilities are tied together by transmission lines into large systems called power grids. They are thus able to exchange power so that a utility with a low demand can assist another with a high demand to help prevent a blackout, which involves the partial or total shutdown of a utility. Under such a system a utility experiencing too great a load, as when peak demand coincides with equipment failure, must remove itself from the grid or endanger other utilities. During periods in which demand exceeds supply a utility can reduce the power drawn from it by lowering its voltage. These voltage reductions, which are normally of 3%, 5%, or 8%, result in power reductions, or brownouts, of about 6%, 10%, or 15%, causing inefficient operation of some electrical devices. The power distribution system, because of its generation of low-frequency electromagnetic fields, has been suggested as a possible source of health problems.
Reactive Power
Bibliography
See K. W. Li and A. P. Priddy, Power Plant System Design (1985); L. F. Drbal et al., Power Plant Engineering (1996).
The Columbia Electronic Encyclopedia™ Copyright © 2022, Columbia University Press. Licensed from Columbia University Press. All rights reserved.
The following article is from The Great Soviet Encyclopedia (1979). It might be outdated or ideologically biased.
Electric Power
a physical quantity, a measure of the time rate of transmitting or transforming electric energy.
In DC electric circuits electric power is given as P = EI, where E is the voltage in volts and I is the current in amperes. In AC circuits the product of instantaneous values of voltage e and current i is equal to the instantaneous power: p = ei. The value of p is a variable quantity that represents the power at a given instant. The average value of the instantaneous electric power during the time period T is called the active power

In single-phase circuits with sinusoidal current P = El cos φ, where E and I are the effective values of voltage and current and φ is the phase shift angle between voltage and current. Active electric power characterizes the time rate of the irreversible conversion of electric energy into other kinds of energy (heat, light, and so on). Electric power that characterizes the time rate of energy transmission from the current source to the receiver and back is called reactive power Q = El sin φ. The apparent power is equal to the product of effective values for circuits with periodically changing currents. The relationship between apparent power and active and reactive power is expressed by the equation S2 = P2 + Q2. For circuits with nonsinusoidal currents, electric power is equal to the sum of the corresponding average powers of the individual harmonics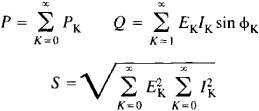 For three-phase circuits electric power is defined as the sum of the powers of individual phases. With symmetrical loading

Where El is the line current, Il, is the line voltage, and φφ is the phase dishift angle between voltage and current.
The Great Soviet Encyclopedia, 3rd Edition (1970-1979). © 2010 The Gale Group, Inc. All rights reserved.
electric power
[

i¦lek·trik ′pau̇·ər

]

(electricity)

The rate at which electric energy is converted to other forms of energy, equal to the product of the current and the voltage drop.

McGraw-Hill Dictionary of Scientific & Technical Terms, 6E, Copyright © 2003 by The McGraw-Hill Companies, Inc.