entablature
Also found in:
Dictionary
,
Thesaurus
,
Wikipedia
.
entablature
(ĕntăb`ləcho͝or)

, the entire unit of horizontal members above the columns or pilasters in classical architecture—Greek, Roman or Renaissance. The height of the entablature in relation to the column supporting it varies with the three orders, Doric, Ionic, and Corinthian, but in Roman and Renaissance interpretations it is generally about one fourth the column height. The entablature's component members are the architravearchitrave
, in architecture, principal beam and lowest member of the classical entablature, the other main members of which are the frieze and the cornice. Its position is directly above the columns, and it extends between them, thus carrying the upper members of the order (see
.....

Click the link for more information.

, which rests directly upon the abacus, or top member of the column cap; the friezefrieze,
in architecture, the member of an entablature between the architrave and the cornice or any horizontal band used for decorative purposes. In the first type the Doric frieze alternates the metope and the triglyph; that of the other orders is plain or sculptured.
.....

Click the link for more information.

; and the cornicecornice
, molded or decorated projection that forms the crowning feature at the top of a building wall or other architectural element; specifically, the uppermost of the three principal members of the classic entablature, hence by extension any similar crowning and projecting
.....

Click the link for more information.

, or topmost member. Essentially the entablature is a development from the primitive lintel, which spans two posts and supports the ends of the roof rafters. In Renaissance and modern designs the entablature is also used upon a wall as the crowning member or as a horizontal band, irrespective of columns.
entablature
[

en′tab·lə·chər

]

(architecture)

A unit consisting of the architrave, frieze, and cornice of a wall.
entablature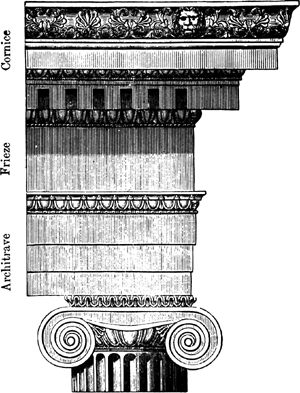 1.
In Classical architecture and its derivatives, an elaborate horizontal band and molding supported by columns; horizontally divided into three basic elements:
architrave
(the lowest member),
frieze
(the middle member), and
cornice
(the uppermost member). The proportions and detailing of an entablature are different for each
order
, and are strictly prescribed.
2. Any similar construction that crowns a wall, window, or doorway.
entablature
Architect
1. the part of a classical temple above the columns, having an architrave, a frieze, and a cornice
2. any construction of similar form