list
(redirected from entering the lists)
Also found in:
Dictionary
,
Thesaurus
,
Medical
,
Legal
,
Financial
,
Idioms
.
list
1
Computing a linearly ordered data structure
---
list
2
1. a strip of bark, sapwood, etc., trimmed from a board or plank
---
list
3
the act or an instance of a ship leaning to one side
Collins Discovery Encyclopedia, 1st edition © HarperCollins Publishers 2005
list
[

list

]

(computer science)

A last-in, first-out storage organization, usually implemented by software, but sometimes implemented by hardware.

In FORTRAN, a set of data items to be read or written.

(engineering)

To lean to one side, or deviate from the vertical.

McGraw-Hill Dictionary of Scientific & Technical Terms, 6E, Copyright © 2003 by The McGraw-Hill Companies, Inc.
fillet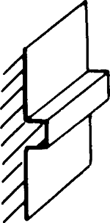 1.
A molding consisting of a narrow flat band, often square in section; the term is loosely applied to almost any rectangular molding; usually used in conjunction with or to separate other moldings or ornaments, as the
stria
between the flutes of columns. Also see
band, lattice molding, fret, reglet, annulet, supercilium, taenia, cincture, cimbia, fascia
, and
platband
; a
listel
, or
tringle
.
2. A carved ornament representing a flowing band or ribbon.
3.
In stair construction, a thin narrow strip of wood which fits into the groove of the stair shoe or
subrail
between balusters.
5. A concave junction where two surfaces meet. (See illustration p. 398.)
McGraw-Hill Dictionary of Architecture and Construction. Copyright © 2003 by McGraw-Hill Companies, Inc.
list
(data)

A data structure holding many values, possibly of different types, which is usually accessed sequentially, working from the head to the end of the tail - an "ordered list". This contrasts with a (one-dimensional)

array

, any element of which can be accessed equally quickly.

Lists are often stored using a cell and pointer arrangement where each value is stored in a cell along with an associated pointer to the next cell. A special pointer, e.g. zero, marks the end of the list. This is known as a (singly) "linked list". A doubly linked list has pointers from each cell to both next and previous cells.

An unordered list is a

set

.

This article is provided by FOLDOC - Free Online Dictionary of Computing (foldoc.org)
list
(1) An arranged set of data, often in row and column format.

(2) In fourth-generation languages, a command that displays/prints selected records. For example, in dBASE, list name address displays all names and addresses in the current file.

Copyright © 1981-2019 by The Computer Language Company Inc. All Rights reserved. THIS DEFINITION IS FOR PERSONAL USE ONLY. All other reproduction is strictly prohibited without permission from the publisher.