equator
(redirected from equator of crystalline lens)
Also found in:
Dictionary
,
Thesaurus
,
Medical
.
equator
equator,
imaginary great circle around the earth, everywhere equidistant from the two geographical poles and forming the base line from which latitude is reckoned. The equator, which measures c.24,902 mi (40,076 km), is designated as lat. 0°. It intersects N South America, central Africa, and Indonesia. The celestial equator is the projection of the plane of the earth's equator on the celestial sphere (see
equatorial coordinate system
).
The Columbia Electronic Encyclopedia™ Copyright © 2022, Columbia University Press. Licensed from Columbia University Press. All rights reserved.
equator
1. The great circle on the surface of a planet or star that lies in a plane – the equatorial plane – passing through the center of the body and perpendicular to the axis of rotation.
2. Short for celestial equator.
Collins Dictionary of Astronomy © Market House Books Ltd, 2006
Equator
(religion, spiritualism, and occult)

The equator is the imaginary line drawn around Earth (and, by extension, other celestial bodies), separating it into northern and southern hemispheres. The celestial equator refers to the circle that results when one imaginarily projects the terrestrial equator against the background of the fixed stars.

The Astrology Book, Second Edition © 2003 Visible Ink Press®. All rights reserved.
equator
[

ē′kwād·ər

]

(geodesy)

The great circle around the earth, equally distant from the North and South poles, which divides the earth into the Northern and Southern hemispheres; the line from which latitudes are reckoned.

McGraw-Hill Dictionary of Scientific & Technical Terms, 6E, Copyright © 2003 by The McGraw-Hill Companies, Inc.
equator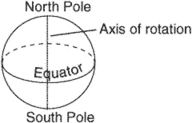 The great circle on the surface of the earth whose plane is at right angles to the earth's axis of rotation. The equator lies in an east-west direction and divides the earth into Northern and Southern Hemispheres. It is normal to the polar axis and equidistant to the poles.
An Illustrated Dictionary of Aviation Copyright © 2005 by The McGraw-Hill Companies, Inc. All rights reserved
equator
1. the great circle of the earth with a latitude of 0?, lying equidistant from the poles; dividing the N and S hemispheres
2. a circle dividing a sphere or other surface into two equal symmetrical parts
Collins Discovery Encyclopedia, 1st edition © HarperCollins Publishers 2005