escalator
Also found in:
Dictionary
,
Thesaurus
,
Acronyms
,
Wikipedia
.
escalator
a moving staircase consisting of stair treads fixed to a conveyor belt, for transporting passengers between levels, esp between the floors of a building
Collins Discovery Encyclopedia, 1st edition © HarperCollins Publishers 2005
Escalator
A moving stairway consisting of steps attached to an inclined continuously moving belt for transporting passengers up or down between the floors in a structure.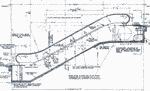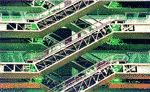 Illustrated Dictionary of Architecture Copyright © 2012, 2002, 1998 by The McGraw-Hill Companies, Inc. All rights reserved
The following article is from The Great Soviet Encyclopedia (1979). It might be outdated or ideologically biased.
Escalator
an inclined apron conveyor that has a moving apron consisting of steps and that is used to raise and lower passengers in subway stations, in public buildings, at pedestrian crossings, and in other areas with heavy passenger traffic. The first escalators were designed in the late 19th century in connection with preparations for the Paris Exposition of 1900. In the USSR, escalators were first installed in the Moscow subway in 1935.
A diagram of an escalator is shown in Figure 1. An apron with two endless drive chains passes around drive sprocket wheels at the upper end and around tension sprocket wheels at the lower end. The apron is guided by metal tracks. The drive for the drive sprocket wheels comprises an electric motor, reduction gears with additional gear or chain drives, and clutches. For safety and convenience, escalators have landings with comb plates that mesh with longitudinal grooves in the flooring of the steps. In addition, they are equipped on both sides with handrails that move on balustrades at a height of 0.9–1 m above the steps.
Rubberized cotton belts with folded edges are used as handrails. The handrails move on guides and take-up devices. The top handrail drive mechanisms are rotated, via a system of chain drives, by the shaft of the traction sprocket wheels. Handrail tension devices are located in the inclined part within the balustrades.
In front of the landings, the tracks cause the apron to level out for a distance of 0.8–1.2 m. However, in the inclined part, the apron forms a stairway with an angle of inclination of 35°; for non-Soviet escalators, the angle of inclination ranges up to 35°. Passengers may walk up or down the stairway when an escalator is stopped.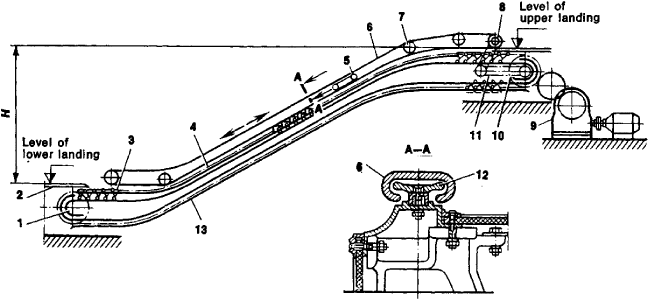 The apron of an escalator (Figure 2) consists of steps that have a steel frame, two main and two auxiliary plastic or rubberized steel (noiseless) wheels mounted on axles, and two drive chains. The plastic cleated flooring of a step remains horizontal for all portions of the carrying branch of the path. Supports for the sleeve-roller drive chains of the apron are mounted on roller link plates. Together with restraining bars along the path, the supports prevent the apron from collapsing or dropping in the unlikely event that the drive chains break.
Soviet standardized escalators for buildings and for subways have different characteristics. For buildings, they have a rise H = 5–7 m, a step width B = 500–750 mm, and a speed v = 0.4–0.5 m/sec. For subways, H = 10–65 m, B = 900–1,000 mm, and v = 0.75–1 m/sec. The escalator drive has service and emergency brakes. The escalators are equipped with a system of electromechanical protective devices; escalators for buildings also have means of automatic starting and stopping.
For wide steps, the rated capacity of escalators is 8,000 passengers per hr at v = 0.5 m/sec and 11,000 passengers per hr at v = 0.9 m/sec. The power rating of the motor may be derived from the sum of the resistances of the moving apron and the handrails. It is determined by the methods used for apron conveyors and belt conveyors, respectively.
REFERENCES
Spivakovskii, A. O., and V. K. D'iachkov. Transportiruiushchie mashiny, 2nd ed. Moscow, 1968.
Mashiny nepreryvnogo transporta. Moscow, 1969.
The Great Soviet Encyclopedia, 3rd Edition (1970-1979). © 2010 The Gale Group, Inc. All rights reserved.
escalator
[

′es·kə'lād·ər

]

(mechanical engineering)

A continuously moving stairway and handrail.

McGraw-Hill Dictionary of Scientific & Technical Terms, 6E, Copyright © 2003 by The McGraw-Hill Companies, Inc.
escalator, moving staircase, moving stairway
A power-driven, inclined, continuous stairway used for raising or lowering passengers.
McGraw-Hill Dictionary of Architecture and Construction. Copyright © 2003 by McGraw-Hill Companies, Inc.