Excavation
(redirected from excavate)
Also found in:
Dictionary
,
Thesaurus
,
Medical
,
Wikipedia
.
excavation
[

'ek·skə′vā·shən

]

(archeology)

Process of removing earth, stone, or other materials covering the remains of ancient civilizations.

(civil engineering)

The process of digging a hollow in the earth.

An uncovered cavity in the ground.
Excavation
The removal of earth from its natural position; the cavity that results from the removal of earth.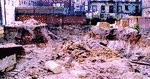 Excavation
the process of removing rock or earth from a solid, broken, or unconsolidated layer by means of an excavator, bulldozer, scraper, or similar machine. In earthwork practice, the term "excavation" may also include the entire work cycle, that is, digging, transportation, and dumping of the earth with excavators.
Soft, loose, and dense rock is usually excavated directly from the solid formation by successive removal of layers of ground; rock that has been broken up beforehand is excavated from piles or loosened layers. Three types of excavation are distinguished according to the mutual position of the face and the horizon on which the machine is working: the face may be above or below the machine horizon, or a combination of the two arrangements may be used. Because digging is the principal component of the process of excavation, it is conventional to describe the process with respect to the specific resistance to digging. This quantity is affected by the physicomechanical properties of the rock or earth, the type of excavating machine used, the design and dimensions of the working member, and the procedure followed in working the face.
REFERENCES
Dombrovskii, N. G. Ekskavatory. Moscow, 1969.
Rzhevskii, V. V. Protsessy otkrytykh gornykh rabot, 2nd ed. Moscow, 1974.
Beliakov, Iu. I., and V. M. Vladimirov. Sovershenstvovanie ekskavatornykh rabot na kar'erakh. Moscow, 1974.
excavation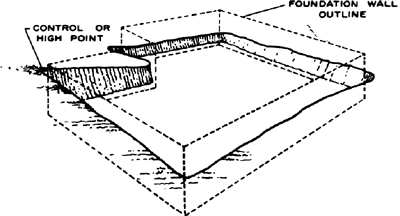 1. The removal of earth from its natural position.
2. The cavity resulting from the removal of earth.