expansion loop
Also found in:
Dictionary
,
Acronyms
.
expansion loop
[

ik′span·shən ′lüp

]

(engineering)

A complete loop installed in a pipeline to mitigate the effect of expansion or contraction of the line.
expansion bend, expansion loop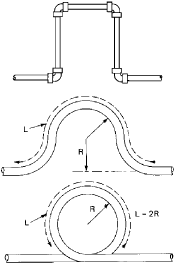 A bend (usually in the form of a horseshoe or ?) which is inserted in a pipe run to provide for the expansion of the pipe resulting from a temperature change.