knot
(redirected from false knot)
Also found in:
Dictionary
,
Thesaurus
,
Medical
.
knot
1
1. a protuberance or lump of plant tissues, such as that occurring on the trunks of certain trees
2.
a. Pathol a lump of vessels or fibres formed in a part, as in a muscle
b. Anatomy a protuberance on an organ or part
3. a unit of speed used by nautical vessels and aircraft, being one nautical mile (about 1.15 statute miles or 1.85 km) per hour
4. one of a number of equally spaced knots on a log line used to indicate the speed of a ship in nautical miles per hour
---
knot
2
a small northern sandpiper, Calidris canutus, with a short bill and grey plumage
Collins Discovery Encyclopedia, 1st edition © HarperCollins Publishers 2005
knot
A bright compact feature particularly in radio and X-ray jets and in supernova remnants.

Collins Dictionary of Astronomy © Market House Books Ltd, 2006
Knot
1. Hard, cross-grained section in a piece of timber, where a branch had formed in the trunk of the tree.
2. In medieval architecture, a bunch of leaves, flowers, or a similar ornament, such as bosses at the intersection of ribs, and bunches of foliage in capitals; an ornamental design resembling cords that are interlaced.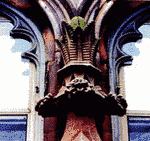 See also: Ornament

Illustrated Dictionary of Architecture Copyright © 2012, 2002, 1998 by The McGraw-Hill Companies, Inc. All rights reserved
The following article is from The Great Soviet Encyclopedia (1979). It might be outdated or ideologically biased.
Knot
in navigation, a unit used to define the speed of a vessel. One knot is equal to 1 nautical mile per hr, 1.852 km per hr, or 0.5144 m per sec. The term "knot" originated in the days of sailing fleets, when a ship's speed was determined by how quickly a log line played out from a log reel. The log line was divided into segments of 50 feet 8 inches (1/120 of a nautical mile), and the segments were marked by knots in the line. The rate at which the line unreeled was measured for 30 seconds (1/120 of an hour). The number of knots (segments) unreeled in 30 seconds corresponded to the ship's speed in nautical miles per hour, that is, in knots.
---
Knot
a temporary connection made between two ropes or between a rope and some object. Knots are tied in such a way that they become more secure as tension on the rope increases. The loops of a knot loose their grip when tension on the rope is decreased, which makes it easier to untie the knot. Different types of knots are used for different purposes, for example, to tie together two ropes of the same or different thickness, to fasten ropes to moorings, or to hoist long, smooth objects.
The Great Soviet Encyclopedia, 3rd Edition (1970-1979). © 2010 The Gale Group, Inc. All rights reserved.
What does it mean when you dream about a knot?
A knot is an obvious symbol of constraints and restrictions on one's freedom of thought, feelings, or actions, indicating a difficult situation that needs to be untied. Anxieties about getting married ("tying the knot") are sometimes denoted by this dream symbol. More positively, a knot can symbolize control, and having something "all wrapped up." (See also Necktie).
The Dream Encyclopedia, Second Edition © 2009 Visible Ink Press®. All rights reserved.
knot
[

nät

]

(computer science)

(materials)

A scar on lumber marking a place where a branch grew out of the tree truck.

(mathematics)

In the general case, a knot consists of an embedding of an n-dimensional sphere in an (n + 2)-dimensional sphere; classically, it is an interlaced closed curve, homeomorphic to a circle.

(organic chemistry)

A chiral structure in which rings containing 50 or more members have a knotlike configuration.

(physics)

A speed unit of 1 nautical mile (1.852 kilometers) per hour, equal to approximately 0.51444 meters per second.

McGraw-Hill Dictionary of Scientific & Technical Terms, 6E, Copyright © 2003 by The McGraw-Hill Companies, Inc.
knot
1. In medieval architecture, a bunch of leaves, flowers, or similar ornament, as the bosses at the intersections of ribs, and bunches of foliage in capitals.
2. An ornamental design resembling cords which are interlaced.
3. The hard, cross-grained mass of wood formed in a trunk at the place where a branch joins the trunk.
4. In fabric construction, the presence of an imperfection that will cause a surface irregularity.
McGraw-Hill Dictionary of Architecture and Construction. Copyright © 2003 by McGraw-Hill Companies, Inc.
knot
A speed of 1 NM/h, 1.1508 statute miles/hour, 1.852 km/h, or 0.5144 m/s. It is the most common measure of speed used in aerial navigation.
An Illustrated Dictionary of Aviation Copyright © 2005 by The McGraw-Hill Companies, Inc. All rights reserved