feathering
Also found in:
Dictionary
,
Thesaurus
,
Medical
,
Idioms
,
Wikipedia
.
feathering
[′feth·ə·riŋ]

(food engineering)

Flocculation of the cream (fat) in homogenized milk when added to hot coffee or tea due to a defect in the chemistry of the cream.

(graphic arts)

The diffusing or spreading of lines or photographic images.

(mechanical engineering)

A pitch position in a controllable-pitch propeller; it is used in the event of engine failure to stop the windmilling action, and occurs when the blade angle is about 90° to the plane of rotation. Also known as full feathering.

(vertebrate zoology)

Plumage.
feathering
i
. The process of changing the pitch of a propeller's blades to produce zero torque and to reduce drag to the minimum so as to prevent further damage to an engine that has been shut down either automatically or manually after a malfunction. In this process, the propeller blades are turned until the blade-chord lines are almost parallel to the airflow, and there are no rotating forces acting on the propeller as a whole. See
feather
(ii).
ii
. The ability of a rotor blade to rotate about its chord axis. This takes place as a result of a change in the collective, or cyclic, pitch. See
feather
(i).
iii
. The action that changes the pitch angle of helicopter blades by rotating them about their feathering axis.
feathering
The appearance of jagged edges on moving objects in an interlaced display. Also known as "combing," this artifact is created because the image moves from one video field (odd lines displayed) to the next video field (even lines filled in while odd lines still present). Feathering is more noticeable on a large-screen TV than a small one because the lines are thicker. See interlace.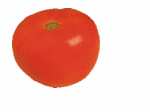 Feathering
Notice the jagged effect of the tomato as it moves from one interlaced video field to another. Field 1 would be odd lines; field 2 even; field 3 odd; field 4 even, and so on. (Image courtesy of Home Theater and High Fidelity, www.hometheaterhifi.com)