Feeder
(redirected from feeders)
Also found in:
Dictionary
,
Thesaurus
,
Medical
.
feeder
1. Engineering a person or device that feeds the working material into a system or machine
2. Geography a tributary channel, esp one that supplies a reservoir or canal with water
3.
Transport
a. a road, service, etc., that links secondary areas to the main traffic network
b. (as modifier): a feeder bus
4.
Electronics
a. a transmission line connecting an aerial to a transmitter or receiver
b. a power line for transmitting electrical power from a generating station to a distribution network
Collins Discovery Encyclopedia, 1st edition © HarperCollins Publishers 2005
feeder
A system of wires or waveguides used to connect a distant radio antenna with its transmitter or receiver so that radio-frequency power is transferred with minimum loss (energy dissipation). The wires are arranged to form a transmission line, which carries the power in the form of electromagnetic waves. When a transmission line is terminated by a resistance equal to its characteristic impedance all the power traveling down the line is absorbed by the load and none is reflected. The line is then said to be matched to its load. Transmission lines are of two types: balanced, as with the open-wire feeder, and unbalanced, as with coaxial cable. It is important that a balanced load, such as a dipole, is fed by a balanced feeder. Where an unbalanced feeder is required to drive a balanced load, a balanced-to-unbalanced transformer, or balun, must be used.

In an array many elements must be connected together to one receiver. One method of doing this is to join adjacent pairs of elements and then pairs of pairs and so on so that the total length of feeder from the receiver to any element is the same. Such an arrangement is sometimes called a christmas tree. See also Butler matrix.

Collins Dictionary of Astronomy © Market House Books Ltd, 2006
The following article is from The Great Soviet Encyclopedia (1979). It might be outdated or ideologically biased.
Feeder
(for farm animals), a device for supplying food to animals. A feeder limits the area of scattering of fodder, thus reducing loss, and ensures hygienic feeding conditions. The design and size of the feeder vary with the type and age of the animals and the conditions of maintenance. It should have the capacity for a single feeding of bulk feeds and be convenient for the animals, as well as for loading, cleaning, and disinfection.
Cattle feeders may be stationary or mobile, single- or double-sided, individual or group. Feeders with stationary distributors differ in shape and size, depending on whether the distributing conveyor passes inside or outside the feeder. In the USSR stationary feeders are generally used in both tied and loose housing systems for livestock, and portable feeders are used for feeding calves. Individual feeders for feed concentrates are used at milking plants. The concentrates enter the feeder from a hopper operated mechanically, manually, or automatically according to the milk yield. Feeders are usually installed at the time of construction of the cowhouse. Also manufactured are sections of feeders for one or two animals, which are supplied to the farm together with other building items.
Feeders for concentrates and coarse fodders are used on horse breeding farms. Concentrate feeders are detachable and are affixed to walls. They can also be used for supplying succulent or mineral feeds. A corner in box stalls is usually partitioned off for coarse fodders. The upper edge of the feeder should not exceed 1.3 m.
Feeders for sheep may be stationary or portable and may have one or two sides. There are feeding racks for hay and silage and troughs for concentrates. Lambs are fed from movable troughs resting on wide bases. Several kinds of automatic feeder are manufactured for pig farms, of which the AKT, SM-1, and VS-1.0 are the most widely used. The first two are used for dry, loose feeds; the AST is double-sided and accommodates 50-60 animals, and the SM-1 is one-sided and feeds 20-30 animals. The VS-1.0 is used for semiliquid mixtures and boiled food wastes, and its capacity is 1 ton of semiliquid feed. All these feeders are loaded by feed loaders.
Feed troughs and pans, used for poultry up to ten days old, can accommodate 35-40 animals at a time. K-ll hoppers are used to supply dry feed to broilers. Adult chickens and turkeys obtain dry feeds from K-12 hoppers, which are larger and have a greater capacity than the K-ll and can accommodate 35-40 animals. Feeders for caged laying hens are built into the cage, and in batteries they form continuous troughs. They are loaded by moving multilevel distributors or conveyors.
Feeders for fish are wooden platforms with low sides. Stationary feeders are attached to the bottom by a weight, and emerging feeders are secured with stakes driven into the bottom. One feeder can accommodate 5, 000 fingerlings, 200 yearlings, or 20 adult fish. Frames floating on the surface of the water are used to supply young fish with dry food.
REFERENCES
Mekhanizatsiia proizvodstvennykh protsessov na zhivotnovodcheskikh fermakh, 5th ed. Edited by V. S. Krasnov. Moscow, 1963.
Makarov, A. P. Mekhanizatsiia prigotovleniia i razdachi kormov na fermakh. Moscow, 1966.
---
Feeder
a device for even and regulated feeding of bulk and piece loads from bunkers, feed chutes, magazines, and other loading devices into transporting and processing machines, such as lathes, mills, and screens. Feeders are divided into two groups. Those in the first group (Figure 1, a-e) are analogous in design to certain types of conveyors; unlike conveyors, however, they have short lengths and more powerful driving motors. The first group includes belt, apron, screw, shaking, and vibrating feeders.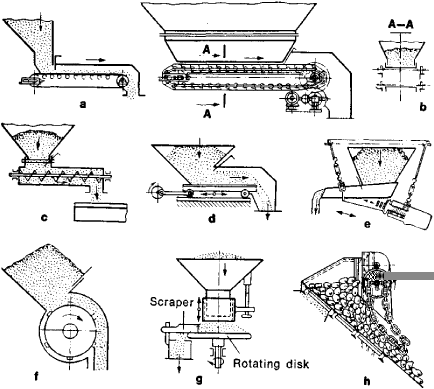 The second group consists of feeders that lack prototypes among the conveyors (Figure 1, f–h). The simplest are the drum feeders. The drum of those used to feed easily flowing, granular, and small-particle loads has a smooth inner surface; the drum of those used for large-piece loads has a ribbed surface. Disk, or rotary, feeders, which are used for bulk loads, have a loading device from which the load falls onto a disk rotating about a vertical axis; the load is knocked off the disk by a fixed scraper. The disk's speed of rotation is set so that the load does not fall off the disk because of centrifugal force. Chain feeders for large-piece loads have a chain curtain that covers the outlet opening of the bunker. When the drive drum rotates, the chains force a layer of the load down the chute and regulate the rate of slippage. Pneumatic screw feeders called canyon pumps are used to feed dusty bulk materials. They differ from ordinary screw feeders in that the material is captured and transported at the outlet by a stream of air.
The output of feeders is regulated by changing the speed of the feeder's drive and the size of the discharge opening in the bunker. In vibrating feeders it can also be regulated by changing the frequency and amplitude of the oscillations.
REFERENCES
Spivakovskii, A. O., and V. K. D'iachkov. Transportiruiushchie mashiny, 2nd ed. Moscow, 1968.
Aleksandrov, M. P. Pod" emno-transportnye mashiny, 4th ed. Moscow, 1972.
---
Feeder
(also piper or blower), a crack in a rock mass or coal seam through which gases are discharged. In the USSR a gas discharge exceeding 1 cu m per min in an excavation sector of less than 20 m is usually considered a feeder. In coal mines, feeder gases consist primarily of methane, whereas in ore deposits they consist of hydrocarbon mixtures, carbon dioxide, and nitrogen. To eliminate the danger of excavations filling with gas, the feeders are capped and ventilation is increased.
---
Feeder
(1) In radio and microwave engineering, a transmission line or device for the propagation of electromagnetic waves from a source to a consumer in transmission and distribution systems. Feeders are used chiefly in radio transmitting and receiving engineering, but they also find application in wired broadcasting.
Feeders may be shielded or unshielded. The latter include single-conductor lines in the form of a metal wire or strip, twin-conductor and multiconductor lines comprising a system of wires (a variety of twin-conductor line is the asymmetrical strip transmission line), dielectric wave guides, and quasi-optical refracting and reflecting lines (seeQUASI OPTICS). Shielded feeders include single-conductor and multiconductor shielded lines, for example, radio-frequency cable and symmetrical strip transmission lines, as well as metal wave guides. The basic advantage of a shielded feeder is that the field of the propagated wave is free from external influences, particularly atmospheric effects.
The selection of a feeder design depends on the operating frequency of the source. Thus, unshielded and shielded wires are usually used in the frequency range from 3 kilohertz to 3 megahertz; coaxial cables, from 3 megahertz to 3 gigahertz; metal and dielectric wave guides, from 3 gigahertz to 300 gigahertz; and quasi-optical lines, above 300 gigahertz.
(2) In electric power engineering, distribution cables and aerial transmission lines (usually carrying 6 to 10 kilovolts) are also called feeders.
REFERENCES
Efimov, I. E. Radiochastotnye linii peredachi. Moscow, 1964.
Zhuk, M. S., and Iu. B. Molochkov. Proektirovanie linzovykh skaniruiushchikh shirokodiapazonnykh antenn i fidernykh ustroistv. Moscow, 1973.
The Great Soviet Encyclopedia, 3rd Edition (1970-1979). © 2010 The Gale Group, Inc. All rights reserved.
feeder
[

′fēd·ər

]

(electricity)

A transmission line used between a transmitter and an antenna.

A conductor, or several conductors, connecting generating stations, substations, or feeding points in an electric power distribution system.

A group of conductors in an interior wiring system which link a main distribution center with secondary or branch-circuit distribution centers.

(geology)

A small ore-bearing vein which merges with a larger one.

(hydrology)

(mechanical engineering)

A conveyor adapted to control the rate of delivery of bulk materials, packages, or objects, or a control device which separates or assembles objects.

A device for delivering materials to a processing unit.

(metallurgy)

A runner or riser so placed that it can feed molten metal to the contracting mass of the casting as it cools in its flask, therefore preventing formation of cavities or porous structure.

(ordnance)

A device that supplies ammunition to a weapon, usually actuated by an automatic or semiautomatic mechanism.

McGraw-Hill Dictionary of Scientific & Technical Terms, 6E, Copyright © 2003 by The McGraw-Hill Companies, Inc.
feeder
1. In power distribution, a group of electric conductors which originate at a main distribution center and supply one or more secondary distribution centers, one or more branch-circuit distribution centers, or a combination of these.
2. In a water distribution system, a water pipe connecting an appliance to the water supply system.
McGraw-Hill Dictionary of Architecture and Construction. Copyright © 2003 by McGraw-Hill Companies, Inc.