fence
(redirected from fences)
Also found in:
Dictionary
,
Thesaurus
,
Legal
,
Financial
,
Acronyms
,
Idioms
.
fence
fence
[short for defense], humanly erected barrier between two divisions of land, used to mark a legal or other boundary, to keep animals or people in or out, and sometimes as an ornament. In newly settled lands fences are usually made of materials at hand, e.g., stone, earth, or wood. A fence built of loose stones is called a dry-stone wall. Wooden fences may be built of boards, posts and rails, or pickets. Hardwoods such as oak and chestnut are preferred for fence posts, although softwoods treated with preservatives such as creosote may be used. Other fence materials are concrete, bricks, iron rails, woven wire, and
barbed wire
. Storm, or snow, fences are erected to prevent drifts from forming across roadways or against buildings. Rows of trees or shrubs (see
hedge
) are sometimes planted as windbreaks. See also
wall
.
The Columbia Electronic Encyclopedia™ Copyright © 2022, Columbia University Press. Licensed from Columbia University Press. All rights reserved.
Fence
A structural barrier of wood or iron used to define, separate, or enclose areas like fields, yards, and gardens.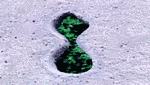 Illustrated Dictionary of Architecture Copyright © 2012, 2002, 1998 by The McGraw-Hill Companies, Inc. All rights reserved
What does it mean when you dream about a fence?
A fence is a blockage, but it is also protection. Dream fences are sometimes symbolic of certain common verbal expressions, such as feeling "fenced in" and "straddling the fence."
The Dream Encyclopedia, Second Edition © 2009 Visible Ink Press®. All rights reserved.
fence
[

fens

]

(aerospace engineering)

A stationary plate or vane projecting from the upper surface of an airfoil, substantially parallel to the airflow, used to prevent spanwise flow.

(computer science)

(engineering)

A line of data-acquisition or tracking stations used to monitor orbiting satellites.

A line of radar or radio stations for detection of satellites or other objects in orbit.

A line or network of early-warning radar stations.

A concentric steel fence erected around a ground radar transmitting antenna to serve as an artificial horizon and suppress ground clutter that would otherwise drown out weak signals returning at a low angle from a target.

An adjustable guide on a tool.

McGraw-Hill Dictionary of Scientific & Technical Terms, 6E, Copyright © 2003 by The McGraw-Hill Companies, Inc.
fence
A barrier that defines a property line, encloses, or borders on a field, a yard, or the like. For illustrations and definitions of specific types, see
barbed-wire fence, board fence, chain-link fence, picket fence, plank fence,post-and-rail fence, rail fence, split-rail fence, sunk fence, Virginia rail fence, worm fence, zigzag fence
.
McGraw-Hill Dictionary of Architecture and Construction. Copyright © 2003 by McGraw-Hill Companies, Inc.
fence

A stationary wall-like plate on the upper surface of a wing, extending chord-wise or substantially parallel to the airstream. Fences generally extend from one-third up to one-half of the wing chord and are located outward about two thirds of the span. Fences prevent a span-wise airflow, especially in swept wings. Also called a
wing fence
.
An Illustrated Dictionary of Aviation Copyright © 2005 by The McGraw-Hill Companies, Inc. All rights reserved
fence
1. an obstacle for a horse to jump in steeplechasing or showjumping
2. Machinery a guard or guide, esp in a circular saw or plane
3. Aeronautics a projection usually fitted to the top surface of a sweptback aircraft wing to prevent movement of the airflow towards the wing tips
Collins Discovery Encyclopedia, 1st edition © HarperCollins Publishers 2005
fence
(1)

A sequence of one or more distinguished (

out-of-band

) characters (or other data items), used to delimit a piece of data intended to be treated as a unit (the computer-science literature calls this a "sentinel"). The NUL (ASCII 0000000) character that terminates strings in C is a fence.

Hex

FF is also (though slightly less frequently) used this way. See

zigamorph

.
fence
(2)

An extra data value inserted in an array or other data structure in order to allow some normal test on the array's contents also to function as a termination test. For example, a highly optimised routine for finding a value in an array might artificially place a copy of the value to be searched for after the last slot of the array, thus allowing the main search loop to search for the value without having to check at each pass whether the end of the array had been reached.
fence
(3)

[among users of optimising compilers] Any technique, usually exploiting knowledge about the compiler, that blocks certain optimisations. Used when explicit mechanisms are not available or are overkill. Typically a hack: "I call a dummy procedure there to force a flush of the optimiser's register-colouring info" can be expressed by the shorter "That's a fence procedure".

This article is provided by FOLDOC - Free Online Dictionary of Computing (foldoc.org)
Fences
(dreams)

May represent your level of self-control. Maybe you need more or less of it. Additionally, this dream may express your need for privacy or connote feelings of being trapped. The details of this dream are vital to its interpretation, as is your general personality type. Are you very guarded or are you open emotionally and psychologically?

Bedside Dream Dictionary by Silvana Amar Copyright © 2007 by Skyhorse Publishing, Inc.