festoon
(redirected from festooned)
Also found in:
Dictionary
,
Thesaurus
,
Medical
,
Idioms
.
festoon
festoon, sculptured or painted architectural or interior ornament consisting of a garland of leaves, flowers, or fruit, or some combination of these, held by ribbons or folds and draped at the ends. When a festoon hangs down from only one end, it is called a drop, but when it hangs from both ends it is termed a swag. The festoon reproduces the actual garland used on Greek and Roman festal altars and was much used as a decorative feature in Roman and Renaissance art. It was often represented as carried by putti, or infant figures.
The Columbia Electronic Encyclopedia™ Copyright © 2022, Columbia University Press. Licensed from Columbia University Press. All rights reserved.
Festoon
Hanging clusters of fruit, tied in a bunch with leaves and flowers; used as decoration on pilasters and panels, usually hung between rosettes and skulls of animals.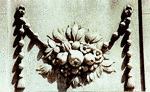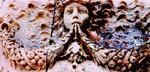 Illustrated Dictionary of Architecture Copyright © 2012, 2002, 1998 by The McGraw-Hill Companies, Inc. All rights reserved
festoon
A festive decoration of pendant semi-loops with attachments and loose ends, esp. a swag of fabric, or representations of such decorations. Also see
garland
.
McGraw-Hill Dictionary of Architecture and Construction. Copyright © 2003 by McGraw-Hill Companies, Inc.
festoon
1. a decorative chain of flowers, ribbons, etc., suspended in loops; garland
2. a carved or painted representation of this, as in architecture, furniture, or pottery
3.
Dentistry
a. the scalloped appearance of the gums where they meet the teeth
b. a design carved on the base material of a denture to simulate this
4.
a. either of two Zerynthia species of white pierid butterfly of southern Europe, typically mottled red, yellow, and brown
b. an ochreous brown moth, Apoda avellana the unusual sluglike larvae of which feed on oak leaves
Collins Discovery Encyclopedia, 1st edition © HarperCollins Publishers 2005