fillet
(redirected from filleters)
Also found in:
Dictionary
,
Thesaurus
,
Medical
.
fillet
1. a thin strip of ribbon, lace, etc., worn in the hair or around the neck
2. a narrow flat moulding, esp one between other mouldings
3. a narrow band between two adjacent flutings on the shaft of a column
4. a narrow strip of welded metal of approximately triangular cross-section used to join steel members at right angles
5. the top member of a cornice
6. Anatomy a band of sensory nerve fibres in the brain connected to the thalamus
Collins Discovery Encyclopedia, 1st edition © HarperCollins Publishers 2005
fillet
[′fil·ət or, of food, fə′lā]

(building construction)

A flat molding that separates rounded or angular moldings.

(design engineering)

A concave transition surface between two otherwise intersecting surfaces.

(engineering)

Any narrow, flat metal or wood member.

A corner piece at the juncture of perpendicular surfaces to lessen the danger of cracks, as in core boxes for castings.

(food engineering)

A boneless slice of meat or fish.

McGraw-Hill Dictionary of Scientific & Technical Terms, 6E, Copyright © 2003 by The McGraw-Hill Companies, Inc.
fillet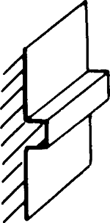 1.
A molding consisting of a narrow flat band, often square in section; the term is loosely applied to almost any rectangular molding; usually used in conjunction with or to separate other moldings or ornaments, as the
stria
between the flutes of columns. Also see
band, lattice molding, fret, reglet, annulet, supercilium, taenia, cincture, cimbia, fascia
, and
platband
; a
listel
, or
tringle
.
2. A carved ornament representing a flowing band or ribbon.
3.
In stair construction, a thin narrow strip of wood which fits into the groove of the stair shoe or
subrail
between balusters.
5. A concave junction where two surfaces meet. (See illustration p. 398.)
McGraw-Hill Dictionary of Architecture and Construction. Copyright © 2003 by McGraw-Hill Companies, Inc.
fillet


i
. An increased area of pavement around turning points on the runway and the taxiway to ensure aircraft do not go off the pavement while turning.
ii
. A fairing at the junction of two surfaces to improve the airflow and decrease the drag. A fillet gives shape and does not impart any additional strength.
An Illustrated Dictionary of Aviation Copyright © 2005 by The McGraw-Hill Companies, Inc. All rights reserved