projector
(redirected from film projector)
Also found in:
Dictionary
,
Thesaurus
,
Medical
,
Wikipedia
.
projector
1. an optical instrument that projects an enlarged image of individual slides onto a screen or wall
2. an optical instrument in which a strip of film is wound past a lens at a fixed speed so that the frames can be viewed as a continuously moving sequence on a screen or wall
3. a device for projecting a light beam
Collins Discovery Encyclopedia, 1st edition © HarperCollins Publishers 2005
The following article is from The Great Soviet Encyclopedia (1979). It might be outdated or ideologically biased.
Projector
an optical device that forms an image of objects on a diffusing surface that serves as a screen. Projectors are classified as diascopic, episcopic, and epidiascopic, depending on the method used to illuminate the object.
In a diascopic projector, or diascope, an image is formed on a screen by light rays that pass through a transparent object, such as a diapositive or a motion-picture film (see Figure 1). Motion-picture projectors are a type of diascope in which the illuminated transparent object—the motion-picture film—is shifted in a specific manner in order to create the effect of motion on the screen. In a slide viewer, a transparent object is also illuminated by light rays passing through it, but the object itself is viewed through an eyepiece. Diascopes are the most numer

ous and varied type of projectors: there are diascopes for the printing of photographs, viewing diapositives, reading microfilms, and processing aerial photographs. In many modern diascopes, the focusing and changing of the diapositives is accomplished automatically, and the projector may be equipped for sound reproduction.
An episcopic projector (see Figure 2) forms an image of an opaque object on a screen by means of light rays that are reflected and scattered from the object. This category includes instruments for copying topographic maps and projecting illustrations.
Epidiascopic projectors use a combination of the diascopic and episcopic systems and can project images of both transparent and opaque objects.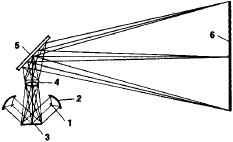 A projector has both mechanical and optical components. The mechanical components provide for proper positioning of objects relative to the optical system, for changing the objects, and for controlling projection times. The optical components perform the projection process and consist of a lighting system with a light source and condenser and a projection lens.
REFERENCES
Volosov, D. S., and M. V. Tsivkin. Teoriia i raschet svetoopticheskikh sistem proektsionnykh priborov. Moscow, 1960.
[Ivanov, A. M.] Zarubezhnye liubitel'skie kadroproektory i diaskopy. Moscow, 1968.
The Great Soviet Encyclopedia, 3rd Edition (1970-1979). © 2010 The Gale Group, Inc. All rights reserved.
projector
[

prə′jek·tər

]

(engineering acoustics)

A horn designed to project sound chiefly in one direction from a loudspeaker.

An underwater acoustic transmitter.

(mathematics)

One of the lines or rays in a central projection.

(optics)

(ordnance)

Any apparatus for launching a projectile, such as a gun or rocket launcher.

Smooth-bore-type barrel or other unrifled weapon from which pyrotechnic signals, grenades, and certain mortar projectiles are fired.

A rack for launching target rockets.

Special type of gun for projecting antisubmarine projectiles.

McGraw-Hill Dictionary of Scientific & Technical Terms, 6E, Copyright © 2003 by The McGraw-Hill Companies, Inc.
projector
1. A lighting unit which concentrates the light within a limited solid angle by means of mirrors and lenses; provides a high value of luminous intensity in one direction.
2. A line dropped perpendicularly from a point to a plane surface.
McGraw-Hill Dictionary of Architecture and Construction. Copyright © 2003 by McGraw-Hill Companies, Inc.
data projector
A device that projects computer output onto a white or silver fabric screen that is wall, ceiling or tripod mounted. It is widely used in classrooms and auditoriums for instruction and slide presentations. For projectors designed primarily to display movies, see front-projection TV.

A data projector has HDMI inputs for Blu-ray/DVD players, set-top boxes and computers. It may also have a VGA input for older computers, and earlier projectors had analog video interfaces (composite, component and S-video). See DLP and 3LCD.

Increasingly Smaller and Lighter
In the 1980s, the first data projectors weighed more than 40 pounds, using a single cathode ray tube (CRT) to project a monochrome image. When color units came out, they weighed even more because of their three CRTs (red, green and blue). CRT projection systems gave way to considerably smaller units.

In the 1990s, projectors became transparent LCD panels, but although significantly lighter than CRTs, they required an overhead projector for illumination (see LCD panel). After the turn of the century, stand-alone projectors shrank to a pound or two (see pocket projector), and within a few years to only a few ounces (see microprojector). See extended desktop mode.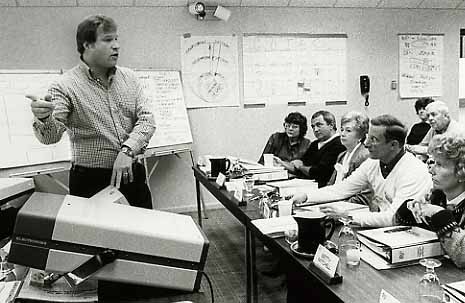 The Good Old Days
Starting in 1980, Alan Freedman, author of this encyclopedia, lugged a monochrome data projector to the computer literacy classes he taught to non-technical managers. Projector, computer and rolling cases weighed over 100 pounds.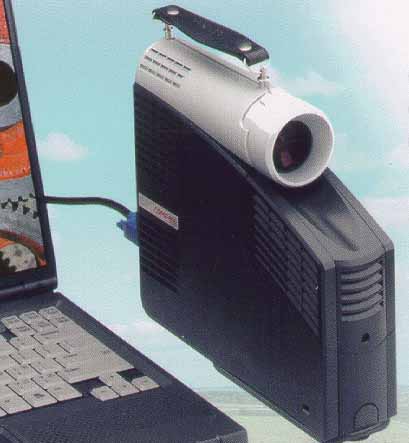 Twenty Years Later
In 2000, using Texas Instrument's DLP technology, Compaq introduced the four-pound MP1400, one of the first lightweight data projectors. (Image courtesy of Compaq Computer Corporation.)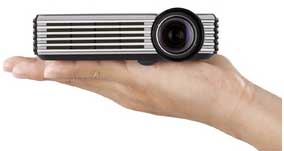 Another Decade Later
In 2012, ViewSonic introduced its Pico projector, weighing less than a pound. (Image courtesy of ViewSonic Corporation, www.viewsonic.com)
---
front-projection TV
A device that projects TV onto a white or silver fabric screen that is wall, ceiling or tripod mounted. It uses the same types of technologies as data projectors, which accept computer output, but projection TVs are designed to process standard and high-definition TV signals. Many units can do both.

Front-projection TVs are used in home theaters, and high-end units can display an excellent image on 8-foot and 10-foot screens. When built into the room, the screen may be fixed on the wall or dropped from the ceiling by remote control. The projector is either ceiling hung or mounted high up on the opposite wall. For projection technologies (CRT, LCD, etc.), see rear-projection TV. See data projector.

Front Projection Screen Size Can Be Changed
Front-projection TVs can change their screen size by replacing the screen and moving the unit closer or farther away. In contrast, screens in rear-projection units are fixed in size.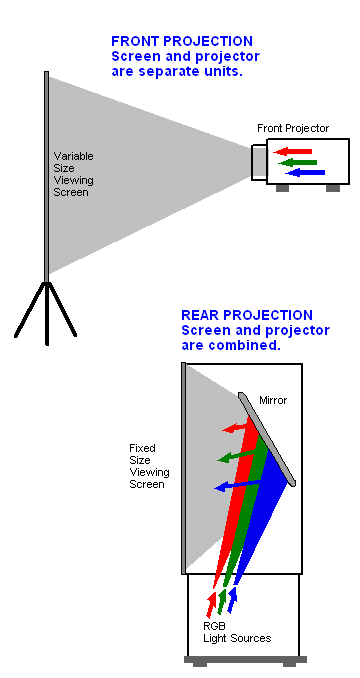 Front vs. Rear Projection
Front-projection TVs require a separate screen several feet from the unit, while rear-projection TVs are self-contained. However, front projectors can create a much larger image than rear-projection systems, and the screen size is flexible.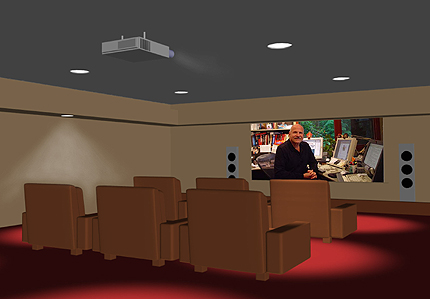 High-End Home Theater
Ceiling-mounted, front-projection units are used in the most elaborate home theaters and display the largest images possible.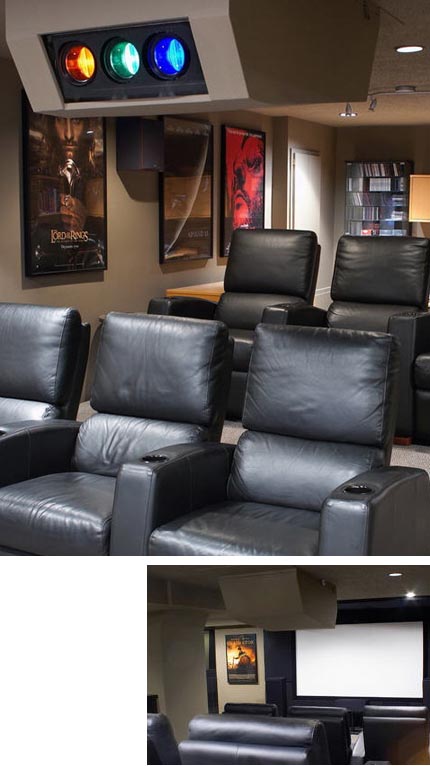 Front Projection with CRTs
The first projectors, both front and rear, used CRTs, and, although mostly replaced, continue to provide excellent quality. This 2006 home theater installation used a Zenith 1200 to project onto a 9-foot screen. Although sold as a Zenith product, it was actually a repackaged, high-end Barco projector with an MSRP of USD $30,000 in 2001. (Images courtesy of Kal of CurtPalme.com)
Copyright © 1981-2019 by The Computer Language Company Inc. All Rights reserved. THIS DEFINITION IS FOR PERSONAL USE ONLY. All other reproduction is strictly prohibited without permission from the publisher.