first point of Aries
Also found in:
Dictionary
,
Thesaurus
,
Legal
.
first point of Aries
Another name for the vernal equinox, which over 2000 years ago, when Hipparchus first used the term, lay in the constellation Aries. Due to the westerly precession of the equinoxes the vernal equinox now lies in Pisces and will subsequently move into Aquarius. Likewise the first point of Libra, or the autumnal equinox, once lay in Libra but is now located in Virgo.
first point of Aries
[

¦fərst ¦pȯint əv ′er·ēz

]

(astronomy)
first point of Aries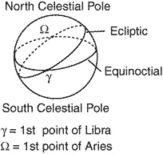 The point of intersection of the
ecliptic
and the celestial equator (equinoctial) at which the sun is moving from a south to north declination. Also known as the
spring equinox
or the
vernal equinox
. It is denoted by the symbol γ. See also
ecliptic
.