flat spin
Also found in:
Dictionary
,
Wikipedia
.
flat spin
an aircraft spin in which the longitudinal axis is more nearly horizontal than vertical
Collins Discovery Encyclopedia, 1st edition © HarperCollins Publishers 2005
flat spin
[

¦flat ′spin

]

(mechanics)

Motion of a projectile with a slow spin and a very large angle of yaw, happening most frequently in fin-stabilized projectiles with some spin-producing moment, when the period of revolution of the projectile coincides with the period of its oscillation; sometimes observed in bombs and in unstable spinning projectiles.

McGraw-Hill Dictionary of Scientific & Technical Terms, 6E, Copyright © 2003 by The McGraw-Hill Companies, Inc.
flat spin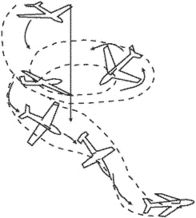 A spin in which the aircraft longitudinal axis remains at less than 45° below the horizontal. A flat spin is a stabilized spin. The farther back the center of gravity and the more the masses that are distributed along the length of the fuselage, the flatter and faster the spin tends to become and the more difficult it is to recover. This is because it is difficult to reduce the angle of attack to unstall the aircraft even with full application of the elevator control.
An Illustrated Dictionary of Aviation Copyright © 2005 by The McGraw-Hill Companies, Inc. All rights reserved