floodlight
(redirected from floodlighted)
Also found in:
Dictionary
,
Thesaurus
.
floodlight
1. a broad intense beam of artificial light, esp as used in the theatre or to illuminate the exterior of buildings
2. the lamp or source producing such light
Floodlight
A spotlight that produces a wide beam of light.
floodlight
[

′fləd'līt

]

(electricity)

A light projector used for outdoor lighting of buildings, parking lots, sports fields, and the like, usually having a filament lamp or mercury-vapor lamp and a parabolic reflector.
floodlight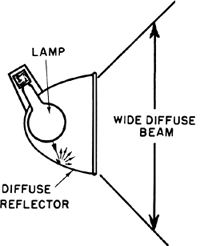 1. A projector type of luminaire; designed for lighting a large area or an object to a level of illumination which is considerably greater than that of its surroundings.
2. In stage lighting, a unit of one or more lamps in a metal housing, usually nonfocusing and used to illuminate a large area diffusely.