folder
Also found in:
Dictionary
,
Thesaurus
,
Medical
,
Legal
,
Financial
,
Acronyms
,
Wikipedia
.
folder
A subdivision of a storage device from the user's perspective (from the device's perspective, see sector). Folders contain files as well as other folders (subfolders), and they expand to accommodate content because they are not a fixed, physical entity. Folders create the illusion of compartments, but actually exist as electronic tables of contents.

Folders are created by the operating system and applications when they are installed. Applications generally default to saving data in the Documents or My Documents folder; however, users can create and name their own folders, and the apps will generally use them the next time data are saved. For example, to create a new folder on the desktop, right click the desktop and select New Folder.

Folders and Directories
The folder metaphor was introduced on the Xerox Star in 1981; later popularized on the Mac and in Windows. In the earlier Unix and DOS environments, the same organization structure was called a "directory," and subfolders were called "subdirectories."

Since the Mac actually became a Unix computer, and the Unix/Linux worlds thrive along with Windows, the terms "folder" and "directory" are used synonymously. In fact, it is not uncommon for people to intersperse the two terms in the same sentence. See files vs. folders, file and Win Folder organization.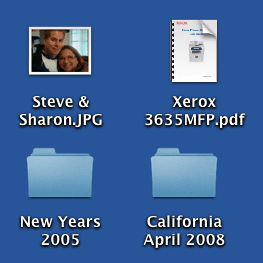 Folders on the Desktop
Folders in all graphical environments are pictured as paper file folders, the type that fit in a file cabinet. This excerpt from a Mac desktop shows two files (top) and two folders (bottom).