footbridge
Also found in:
Dictionary
,
Thesaurus
,
Acronyms
,
Wikipedia
.
footbridge
a narrow bridge for the use of pedestrians
footbridge
A narrow bridge structure that is designed to carry pedestrians only.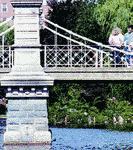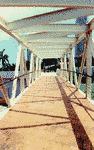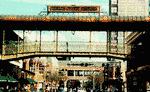 See also: Bridge
Footbridge
a bridge built where a pedestrian route meets natural obstacles, such as rivers or gullies, or transportation routes, such as city streets, railroads, or highways with heavy traffic. Footbridges over railroad tracks are usually constructed at railroad stations. Parks with rivers, ponds, or pools often have footbridges. A footbridge may have one or several spans with intervening supports, depending on the width of the obstacle to be bridged and the architectural design. Access to footbridges is usually provided by stairways with landings and, less often, by ramps (straight or curved) or escalators. Modern footbridges are mostly girder or frame bridges constructed of concrete, reinforced concrete, or metal. In some cases, arch and suspension (guy) bridges are used.
footbridge, pedestrian bridge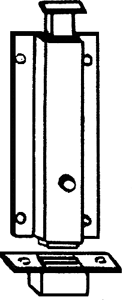 A narrow bridge designed to carry pedestrians only.