Fort
(redirected from fortlets)
Also found in:
Dictionary
,
Thesaurus
.
fort
[

fȯrt

]

(ordnance)

Permanent post as opposed to a camp, which is a temporary installation.

Land area within which harbor defense units are located.

McGraw-Hill Dictionary of Scientific & Technical Terms, 6E, Copyright © 2003 by The McGraw-Hill Companies, Inc.
Fort
A fortified place or position stationed with troops; a bastion, fortification. The first buildings erected in towns had protective walls.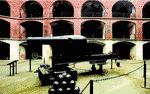 Illustrated Dictionary of Architecture Copyright © 2012, 2002, 1998 by The McGraw-Hill Companies, Inc. All rights reserved
The following article is from The Great Soviet Encyclopedia (1979). It might be outdated or ideologically biased.
Fort
a large fortified structure, either open (field) or enclosed (permanent).
Forts were first constructed in the 18th century, initially as separate fortifications outside a fortress wall (seeFORTRESS) and later, from the 18th to early 20th centuries, as part of a fortress or a fortified field position. Open forts assumed a variety of forms; they occupied an area of 4–5 hectares and were adapted to all-around defense. One or two earthen banks were erected around the perimeter, which measured about 1,000 m; the banks were protected by ditches and other obstacles, and 20–50 artillery pieces were placed behind the banks. The inside of the wall was equipped as a fire position. For purposes of defense, a garrison of two to four rifle companies was assigned to a fort and stationed in shelters, in addition to artillery crews.
Permanent forts were built of stone, concrete, armor, or other material. Initially, in the 18th century, they took the form of multilevel stone towers, armed with many guns. In the 19th century, forts were designed according to the bastion system; French forts had four or five bastions, each with 40–50 artillery pieces. Later, the caponier system was developed; in Germany, for example, forts were constructed with 20–30 artillery pieces, two flanking caponiers, and one central redoubt caponier.
As new types of fortifications came into use after World War I, such as defensive complexes and strongpoints, the fort lost its importance as an individual entity and henceforth was used only as part of a fortified area.
The Great Soviet Encyclopedia, 3rd Edition (1970-1979). © 2010 The Gale Group, Inc. All rights reserved.
What does it mean when you dream about a fort?
Forts represent safety and protection. Perhaps the dreamer needs a fortress against worldly invasion, or perhaps the dreamer is deliberately erecting barriers against life.
The Dream Encyclopedia, Second Edition © 2009 Visible Ink Press®. All rights reserved.
fort
A defensive work, exclusively military in nature, that is strengthened for protection against enemy attack and commonly incorporates a series of bastions (i.e., projections from the outer wall of the fort) to defend the adjacent perimeter; usually occupied by troops. See
bastion, battlement, breastwork, casemate, embrasure, loophole, rampart
.
McGraw-Hill Dictionary of Architecture and Construction. Copyright © 2003 by McGraw-Hill Companies, Inc.