fountain
(redirected from fountained)
Also found in:
Dictionary
,
Thesaurus
.
fountain,
natural or artificially conveyed flow of water. In ancient Greece columnar shrines were built over springs and dedicated to deities or nymphs. In ancient Rome fountains fed by the great aqueduct system furnished water in the streets, in the villa gardens, and in town houses. Though there were few public fountains in the Middle Ages, a number of beautiful examples remain, especially in Italy, where splendid Renaissance fountains, showing the full artistic exuberance of the period, are also found even in the smallest village square or the least pretentious villa. The development of the great 16th- and 17th-century villas, with their hillside gardens and natural water sources, called forth amazing ingenuity in water decoration. In the Villa d'Este at Tivoli and the villas at Frascati, near Rome, the various disposals of water constituted an integral element of the garden composition. In France the gardens of the palace of Versailles, designed by Le Nôtre, embodied a vast scheme of water adornment, with elaborate sculptural treatment. The supply, held in a reservoir at Marly, was raised 500 ft (152 m) above the Seine by machinery. The theatrical trend of the baroque period found expression also in fountains. In keeping with the animated postures of the sculptured nymphs, sea horses, and dolphins, the water issued splashing over the rims of the uppermost bowls and down upon artificial rocks and shells. A colossal figure of Neptune was a favorite motif, as in famous examples at Florence, Bologna, and Rome. Bernini designed one such fountain in Rome. He also planned the superbly simple fountains in St. Peter's Square and the dramatic fountains in the Piazza Navona. In 1762 one of the most famous and elaborate examples was completed, the fountain of Trevi. In sharp contrast with these are the fountains of Muslim countries, which instead of gushing water often emit an inconspicuous trickle. In their gardens the water lies in quiet pools and long, narrow channels. Of the Moorish fountains employing basins and sculpture, the Fountain of the Lions in the Alhambra, Granada, is the most famous. Invariably a fountain for ablutions stands in the courtyard of a mosque. In Middle Eastern cities the public fountains are entirely enclosed within structures richly finished in marbles and ceramics and with wide projecting roofs. Examples are numerous in İstanbul, Cairo, and Damascus. The modern public drinking fountain is usually of strictly utilitarian design. American architects and landscape artists, however, are encouraging the use of the ornamental fountain with definite success.

The Columbia Electronic Encyclopedia™ Copyright © 2013, Columbia University Press. Licensed from Columbia University Press. All rights reserved.

www.cc.columbia.edu/cu/cup/
Fountain
An architectural setting incorporating a continuous or artificial water supply, fed by a system of pipes and nozzles through which water is forced under pressure to produce a stream of ornamental jets.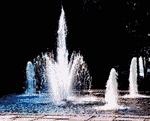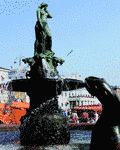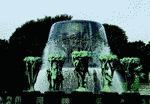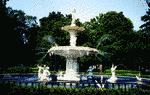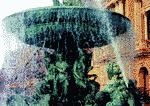 Illustrated Dictionary of Architecture Copyright © 2012, 2002, 1998 by The McGraw-Hill Companies, Inc. All rights reserved
The following article is from The Great Soviet Encyclopedia (1979). It might be outdated or ideologically biased.
Fountain
in architecture, a structure serving as the base or frame for a stream of water either jetting upward or flowing downward. Fountains were originally constructed only as sources of drinking water. Later, flowing water was combined with architecture, sculpture, and greenery to create various ornamental and artistic effects.
Ornamental fountains were built in ancient and medieval Western European cities, in the countries of the Middle and Near East, and in India. Fountains with statues, columns, basins, and other objects are known to date as far back as the classical period. They were favorite decorations for city squares from the 16th to 18th centuries in Europe, for example, in Florence and Rome, and in villas and palace-park complexes, notably at Versailles.
In Russia, in the 18th and early 19th centuries, an impressive system of fountains was constructed at Petergof (present-day Petrodvorets). In modern architecture, fountains add an ornamental effect that is often enhanced at night by electric illumination.
REFERENCE
Spyshnov, P. A. Fontany. Moscow, 1950.
The Great Soviet Encyclopedia, 3rd Edition (1970-1979). © 2010 The Gale Group, Inc. All rights reserved.
What does it mean when you dream about a fountain?
Fountains capture a symbol of emotions and of the unconscious; they combine water with the elements of air and light, symbolizing a highly controlled and intellectualized examination of the self. Fountains are also symbols of nourishment (the fountain of life) and eternal life (the fountain of youth).
The Dream Encyclopedia, Second Edition © 2009 Visible Ink Press®. All rights reserved.
fountain
[

′fau̇nt·ən

]

(graphic arts)

In printing, a container or reservoir on a press that contains an ink supply.

In offset lithography, a fountain solution (usually a water-alcohol mixture) that wets the nonprinting areas of the plate.

McGraw-Hill Dictionary of Scientific & Technical Terms, 6E, Copyright © 2003 by The McGraw-Hill Companies, Inc.
fountain
McGraw-Hill Dictionary of Architecture and Construction. Copyright © 2003 by McGraw-Hill Companies, Inc.
Fountain
of Youth fabulous fountain believed to restore youth to the aged. [Western Folklore: Brewer Handbook, 389]
Allusions—Cultural, Literary, Biblical, and Historical: A Thematic Dictionary. Copyright 2008 The Gale Group, Inc. All rights reserved.