frieze
Also found in:
Dictionary
,
Thesaurus
,
Wikipedia
.
frieze,
in architecture, the member of an entablature between the architrave and the cornice or any horizontal band used for decorative purposes. In the first type the Doric frieze alternates the metope and the triglyph; that of the other orders is plain or sculptured. The 5th-century B.C. treasury of the Cnidians at Delphi shows figures in the frieze. Roman and Renaissance examples, a notable one being on the 1st-century B.C. temple of Vesta at Tivoli, display acanthus leaves and other ornamentation.
frieze
[

frēz

]

(architecture)

A decorated band immediately below the cornice on an interior wall.

(textiles)

Thick, heavyweight coating and upholstery fabric, with a rough, raised fibrous surface and a more or less hard feel.
frieze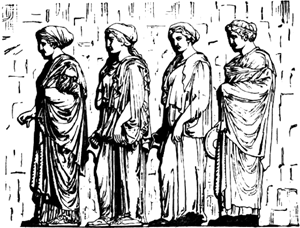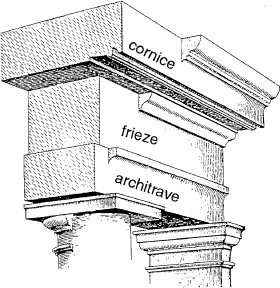 1.
In Classical architecture and derivatives, the middle horizontal member of three main divisions of an
entablature
, above the
architrave
and below the cornice.
2. A decorative band at or near the top of an interior wall below the cornice.
3.
In house construction, a horizontal member connecting the top row of the siding with the underside of the cornice. Also see
cushion frieze
.
frieze
1
1.
Architect
a. the horizontal band between the architrave and cornice of a classical entablature, esp one that is decorated with sculpture
b. the upper part of the wall of a room, below the cornice, esp one that is decorated
2. any ornamental band or strip on a wall
---
frieze
2
a heavy woollen fabric with a long nap, used for coats, etc.