fronton
Also found in:
Dictionary
,
Thesaurus
,
Wikipedia
.
pediment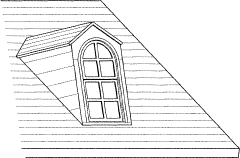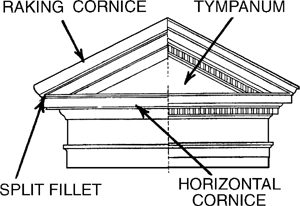 1. In Classical architecture, a triangular gable usually having a horizontal cornice, with raked cornices on each side, surmounting or crowning a portico or another major division of a façade, end wall, or colonnade.
2.
A gable above or over a door, window, or hood; usually has a horizontal cornice, crowned with curved sides, or may also be crowned with another configuration (such as broken sides) or its base may be broken in the middle. For definitions and illustrations of specific types, See
angular pediment, broken pediment, broken-scroll pediment, center-gabled pediment, curved pediment, open pediment, pointed pediment, round pediment, scroll pediment, segmental pediment, split pediment, swan's-neck pediment, triangular pediment
.
McGraw-Hill Dictionary of Architecture and Construction. Copyright © 2003 by McGraw-Hill Companies, Inc.