ray
(redirected from gamma r's)
Also found in:
Dictionary
,
Thesaurus
,
Medical
.
ray,
extremely flat-bodied cartilaginous marine fishfish,
limbless aquatic vertebrate animal with fins and internal gills. Traditionally the living fish have been divided into three class: the primitive jawless fishes, or Agnatha; the cartilaginous (sharklike) fishes, or Chondrichthyes; and the bony fishes, or Osteichthyes.
.....

Click the link for more information.

, related to the sharkshark,
member of a group of almost exclusively marine and predaceous fishes. There are about 250 species of sharks, ranging from the 2-ft (60-cm) pygmy shark to 50-ft (15-m) giants. They are found in all seas, but are most abundant in warm waters.
.....

Click the link for more information.

. The pectoral finsfin,
organ of locomotion characteristic of fish and consisting of thin tissue supported by cartilaginous or bony rays. In some fish, e.g., the eel, a single fin extends from the back, around the tail, and along the ventral surface.
.....

Click the link for more information.

of most rays are developed into broad, flat, winglike appendages, attached all along the sides of the head; the animal swims by rippling movements of these wings. Most rays have slender whiplike tails. The eyes and spiracles are located on top of the head, the mouth and the gillgills,
external respiratory organs of most aquatic animals. In fishes the gills are located in gill chambers at the rear of the mouth (pharynx). Water is taken in through the mouth, is forced through openings called gill slits, and then passes through the gill clefts, spaces
.....

Click the link for more information.

slits on the underside. Many rays are bottom dwellers, lying like rugs on the seafloor; others inhabit the upper waters. Bottom-dwelling rays breathe by taking in water through the spiracles, rather than through the mouth as most fishes do, and passing it out through the gills. Rays feed on a variety of smaller animals; the heavy, rounded teeth of most species are adapted to crushing the shells of snails and clams.
Types of Rays
The rays, which form the order Batoidea, are divided into seven families. The largest are the mantas, also called devil rays and devilfish (family Mobulidae). Living in the open ocean, the mantas may weigh up to 3,000 lb (1360 kg), with a width of up to 22 ft (7 m). Unlike most rays, mantas are filter-feeders; the manta uses a pair of horns at the front of the head to drive small prey into its mouth; there the prey is caught in a strainer and swallowed, the water passing out through the manta's gills. Electric rays, or torpedos (family Torpedinidae), have electric organs in their wings that generate electric current, used to immobilize prey and for defense. The current is strong enough to stun humans, and it is said that the ancient Greeks used these fish for shock therapy. Skates (family Rajidae), which are sometimes caught for food, are bottom dwellers; some species have electric organs in their tails. The stingrays, or whiprays (family Dasyatidae), have rows of spines along their tails, which are generally much longer than their bodies. The stingray inflicts wounds by lashing with its tail; the spines contain a poison that causes pain and can be fatal to humans. Most of the eagle rays and bat rays (family Mylobatidae) bear a single poison spine on the tail. The guitarfishes (family Rhinobatidae) are sharklike in form, having well-developed tails used for swimming and smaller pectoral fins than most rays; however, the fins are attached, as in all rays, above the gills, giving these fishes a broad-headed appearance. Sawfishes (family Pristidae) are similar in body form, but have long, flat snouts with a row of toothlike projections on either side. Some species reach a total length of 20 ft (6 m), with snouts 6 ft (1.8 m) long and 1 ft (30 cm) wide. They use these ponderous weapons to slash and impale small fishes and to probe in the mud for burrowing animals. Sawfishes, which are endangered globally, should not be confused with saw sharks, which are true sharks.
Reproduction and Distribution
Fertilization is internal in rays. Most bear live young, but the skates lay flattened, rectangular eggs, enclosed in leathery shells, with tendrils at the corners for anchorage. Empty egg cases of this type are found on beaches and are known as mermaids' purses. Most ray families have a more or less cosmopolitan distribution in tropical and subtropical marine waters; some include temperate or cold-water species. Some rays can live in brackish bays and estuaries, and the sawfish enters freshwater rivers and lakes.
Classification
Rays are classified in the phylum ChordataChordata
, phylum of animals having a notochord, or dorsal stiffening rod, as the chief internal skeletal support at some stage of their development. Most chordates are vertebrates (animals with backbones), but the phylum also includes some small marine invertebrate animals.
..... Click the link for more information. , subphylum Vertebrata, class Chondrichthyes, subclass Elasmobranchii, order Batoidea.
---
ray,
in physics, term denoting the straight line along which lightlight,
visible electromagnetic radiation. Of the entire electromagnetic spectrum, the human eye is sensitive to only a tiny part, the part that is called light. The wavelengths of visible light range from about 350 or 400 nm to about 750 or 800 nm.
.....

Click the link for more information.

or other form of radiation is propagated from its source. It generally refers to the line of propagation of waves but is also applied to streams of particles such as the electrons emitted from a cathode or particles emitted by substances exhibiting radioactivityradioactivity,
spontaneous disintegration or decay of the nucleus of an atom by emission of particles, usually accompanied by electromagnetic radiation. The energy produced by radioactivity has important military and industrial applications.
.....

Click the link for more information.

. See cosmic rayscosmic rays,
charged particles moving at nearly the speed of light reaching the earth from outer space. Primary cosmic rays consist mostly of protons (nuclei of hydrogen atoms), some alpha particles (helium nuclei), and lesser amounts of nuclei of carbon, nitrogen, oxygen, and
.....

Click the link for more information.

; X rayX ray,
invisible, highly penetrating electromagnetic radiation of much shorter wavelength (higher frequency) than visible light. The wavelength range for X rays is from about 10−8 m to about 10−11
.....

Click the link for more information.

.

The Columbia Electronic Encyclopedia™ Copyright © 2013, Columbia University Press. Licensed from Columbia University Press. All rights reserved.

www.cc.columbia.edu/cu/cup/
ray
[

rā

]

(astronomy)

One of the broad streaks that radiate from some craters on the moon, especially Copernicus and Tycho; they consist of material of high reflectivity and are seen from earth best at full moon.

(mathematics)

A straight-line segment emanating from a point. Also known as half line.

(optics)

A curve whose tangent at any point lies in the direction of propagation of a light wave.

(physics)

A moving particle or photon of ionizing radiation.

(vertebrate zoology)

Any of about 350 species of the elasmobranch order Batoidea having flattened bodies with large pectoral fins attached to the side of the head, ventral gill slits, and long, spikelike tails.

McGraw-Hill Dictionary of Scientific & Technical Terms, 6E, Copyright © 2003 by The McGraw-Hill Companies, Inc.
medullary ray, pith ray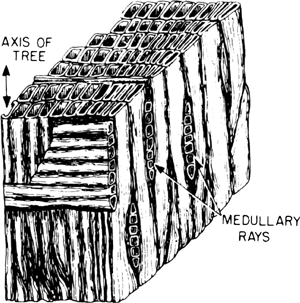 In a cross section of a tree or log, one of the ribbons of tissue extending radially from the pith; may vary from microscopic to 4 in. (10 cm) or more in oak; used to store and transport food horizontally within the tree.
McGraw-Hill Dictionary of Architecture and Construction. Copyright © 2003 by McGraw-Hill Companies, Inc.
ray
1
1. Maths a straight line extending from a point
2. a thin beam of electromagnetic radiation or particles
3. any of the bony or cartilaginous spines of the fin of a fish that form the support for the soft part of the fin
4. any of the arms or branches of a starfish or other radiate animal
5. Astronomy any of a number of bright streaks that radiate from the youngest lunar craters, such as Tycho; they are composed of crater ejecta not yet darkened, and extend considerable distances
6. Botany any strand of tissue that runs radially through the vascular tissue of some higher plants
---
ray
2
any of various marine selachian fishes typically having a flattened body, greatly enlarged winglike pectoral fins, gills on the undersurface of the fins, and a long whiplike tail. They constitute the orders Torpediniformes (electric rays) and Rajiformes
---
ray
Music (in tonic sol-fa) the second degree of any major scale; supertonic
---
Ray
1
1. John. 1627--1705, English naturalist. He originated natural botanical classification and the division of flowering plants into monocotyledons and dicotyledons
2. Man, real name Emmanuel Rudnitsky. 1890--1976, US surrealist photographer
3. Satyajit . 1921--92, Indian film director, noted for his Apu trilogy (1955--59)
---
Ray
2
Cape. a promontory in SW Newfoundland, Canada
Collins Discovery Encyclopedia, 1st edition © HarperCollins Publishers 2005