geometric tracery
geometric tracery
Gothic tracery characterized by a pattern of geometric shapes, as circles and foils. See also:
Tracery
Illustrated Dictionary of Architecture Copyright © 2012, 2002, 1998 by The McGraw-Hill Companies, Inc. All rights reserved
geometric tracery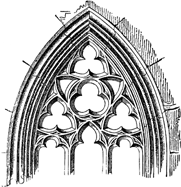 Gothic openwork in the form of simple geometrical patterns, principally circles and multifoils.
McGraw-Hill Dictionary of Architecture and Construction. Copyright © 2003 by McGraw-Hill Companies, Inc.