geometrical stair
geometrical stair
A winder stair in which the outside of the winders is supported by walls forming three sides of a rectangle, and the inner side is unsupported and without a newel post. See also:
Stair
Illustrated Dictionary of Architecture Copyright © 2012, 2002, 1998 by The McGraw-Hill Companies, Inc. All rights reserved
geometrical stair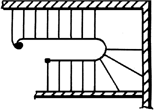 A stair constructed around a stairwell without the use of newels at the angles or turning points.
McGraw-Hill Dictionary of Architecture and Construction. Copyright © 2003 by McGraw-Hill Companies, Inc.