stick
(redirected from getting stuck)
Also found in:
Dictionary
,
Thesaurus
,
Medical
,
Financial
.
stick
1. a small thin branch of a tree
2.
a. any long thin piece of wood
b. such a piece of wood having a characteristic shape for a special purpose
c. a baton, wand, staff, or rod
4. Informal the lever used to change gear in a motor vehicle
5. Nautical a mast or yard
6. Informal a rural area considered remote or backward (esp in the phrase in the sticks)
7. W and NW Canadian informal the wooded interior part of the country
stick
[

stik

]

(engineering)

A rigid bar hinged to the boom of a dipper or pull shovel and fastened to the bucket.

A long slender tool bonded with an abrasive for honing or sharpening tools and for dressing of wheels.

(ordnance)

A succession of missiles fired or released separately at predetermined intervals from a single aircraft.
stick
1. Any long slender piece of wood.
2. A shaped piece of wood, as a stake.
stick
i
. The
control column
of the aircraft for control of its trajectory. See
control column
.
ii
. The number of parachutists who jump from one aperture of an aircraft during one run over a dropping zone (DZ).
iii
. The number of bombs or missiles fired or released successively but separately at a predetermined interval from a single aircraft (e.g., a stick of four bombs).
iv
. A series of rounds fired by an aircraft's gun in one burst.
stick
(1) See USB stick, Sony Memory Stick, streaming stick and selfie.

(2) Slang for memory module. RAM chips for personal computers are typically mounted on a thin, long printed circuit board (see memory module). A "stick of memory" is not the same as a Sony Memory Stick, which is a flash-based storage module for digital cameras (see Sony Memory Stick).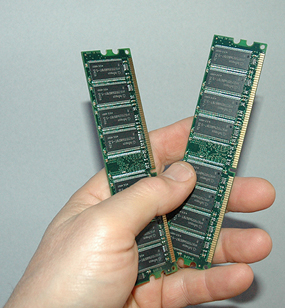 Two Sticks of Memory
Memory modules are typically housed on printed circuit boards such as these.