girdle
Also found in:
Dictionary
,
Thesaurus
,
Medical
,
Acronyms
,
Wikipedia
.
girdle
1. Anatomy any encircling structure or part
2. the mark left on a tree trunk after the removal of a ring of bark
girdle
[

′gərd·əl

]

(anatomy)

Either of the ringlike groups of bones supporting the forelimbs (arms) and hindlimbs (legs) in vertebrates.

(invertebrate zoology)

Either of the hooplike bands constituting the sides of the two valves of a diatom.

The peripheral portion of the mantle in chitons.

(lapidary)

The periphery of a cut gemstone that is usually grasped by the setting or mounting.

(petrology)

With reference to a fabric diagram or equal-area projection net, a belt showing concentration of points which is approximately coincident with a great circle of the net and which represents orientation of the fabric elements.
cincture, girdle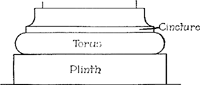 A ring of moldings around the top or bottom of the shaft of a column, separating
---
girdle
A band, usually horizontal; esp. one ringing the shaft of a column.