glide
Also found in:
Dictionary
,
Thesaurus
,
Medical
,
Acronyms
,
Idioms
,
Wikipedia
.
glide
1.
a. any of various dances featuring gliding steps
b. a step in such a dance
2. a manoeuvre in which an aircraft makes a gentle descent without engine power
3. the act or process of gliding
4.
Music
a. a long portion of tubing slipped in and out of a trombone to increase its length for the production of lower harmonic series
b. a portamento or slur
5.
Crystallog
another name for
slip
6. Cricket another word for glance (sense 1)
Glide
a short, incomplete sound that occurs during the transition from one complete sound to another, when the speech organs attempt to occupy a new position but the glottis remains open and expiration continues—for example, in Russian volia ("will") between the v and o: [vωól'a]. The term "glide" is also used to refer to the nonsyllabic part of a diphthong.
glide
[

glīd

]

(aerospace engineering)

Descent of an aircraft at a normal angle of attack, with little or no thrust.

(crystallography)
Glide
(1) See Glide Effortless and Glide PhotoShare.

(2) Video chat for smartphones, tablets and smartwatches from Glide (www.glide.me). The Glide app lets users record and send a video up to five minutes long, and it keeps the ongoing video conversation in a thread like text messaging apps. See video chat.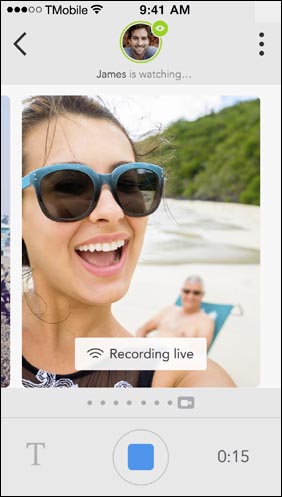 Glide Video Messaging
In this example, the recipient James is being notified so he can watch the video being recorded in real time.