gnome
Also found in:
Dictionary
,
Thesaurus
,
Medical
,
Financial
,
Acronyms
,
Idioms
,
Wikipedia
.
gnome
(nōm)

, in folklore, tiny subterranean creature associated with mines and quarries. Usually represented as misshapen, frequently as hunchbacked, gnomes are said to be guardians of hidden treasures.
Gnome
a moral admonition set in verse or rhythmical prose. The gnome was used primarily in Eastern (Oriental) literatures—ancient Hebrew, Indian, Arabic, and Persian. Gnomes were popular in ancient Greece, especially in elegiac poetry, in the form of distichs or hexameters. Homer interspersed gnomes throughout his epics; Hesiod also wrote them. An unusually large number are included in a collection attributed to Theognis of Megara. In the literature of ancient Rome the dicta of Publilius Syrus and the so-called Dicta Catonis may be regarded as gnomes.
REFERENCES
Wilpert, G. von. Sachwörterbuch der Literatur. Stuttgart, 1964.
Kindermann, H., and M. Dietrich. Lexikon der Weltliteratur. Zürich, 1951.
What does it mean when you dream about a gnome?
Gnomes symbolize the magical world of wishes and make-believe related to one's "inner child," the inner treasures that the dreamer may possess.
gnome
ground-dwelling spirit in Rosicrucian philosophy. [Medieval Hist.: Brewer Dictionary, 468]
gnome
one of a species of legendary creatures, usually resembling small misshapen old men, said to live in the depths of the earth and guard buried treasure
GNOME
(GNU Network Object Modeling Environment) A GUI-based user interface for Linux and other Unix environments that grew out of the GNU Project. Providing an alternative to the KDE interface, GNOME is either pronounced "guh-nome" or "nome." Companies such as Red Hat, Inc. (www.redhat.com) and Ximian (www.ximian.com), formerly Helix Code, Inc. and acquired by Novell, support the GNOME environment. For more information, visit www.gnome.org. See Linux, KDE and GNU.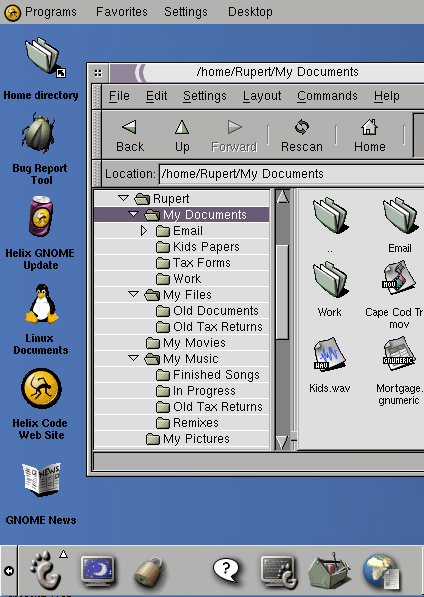 A GNOME Desktop
Similar to other graphical interfaces such as on the Mac and Windows, this is a sample GNOME desktop with an open application. (Screen shot courtesy of Helix Code, Inc.)