swing
(redirected from go with a swing)
Also found in:
Dictionary
,
Thesaurus
,
Medical
,
Idioms
.
swing
1. Boxing a wide punch from the side similar to but longer than a hook
2. Cricket the lateral movement of a bowled ball through the air
3. something that swings or is swung, esp a suspended seat on which a person may sit and swing back and forth
4.
a. a kind of popular dance music influenced by jazz, usually played by big bands and originating in the 1930s
b. (as modifier): swing music
5. Prosody a steady distinct rhythm or cadence in prose or verse
6.
a. a fluctuation, as in some business activity, voting pattern etc.
b. able to bring about a swing in a voting pattern
c. having a mixed voting history, and thus becoming a target for political election campaigners
www.jazzinamerica.org
Collins Discovery Encyclopedia, 1st edition © HarperCollins Publishers 2005
swing
see ELECTORAL SWING.

Collins Dictionary of Sociology, 3rd ed. © HarperCollins Publishers 2000
The following article is from The Great Soviet Encyclopedia (1979). It might be outdated or ideologically biased.
Swing
a movement among English farm laborers and small farmers in southern and southeastern England in the 1830's. It owed its origin to an increase in the number of poor and unemployed agricultural laborers brought about by the economic crisis of 1830 and by the introduction of agricultural machines. The farm laborers attacked the estates, set fire to harvested grain, and destroyed agricultural implements belonging to the landowners and wealthy farmers. The rebels' demands were stated in letters that circulated under the signature of "Captain Swing," a fictitious name derived from "swing," the striking part of a wooden flail (in the figurative sense, the gallows). The movement was suppressed with the aid of troops.
The Great Soviet Encyclopedia, 3rd Edition (1970-1979). © 2010 The Gale Group, Inc. All rights reserved.
swing
[

swiŋ

]

(electricity)

Variation in frequency or amplitude of an electrical quantity.

(engineering)

The arc or curve described by the point of a pick or mandril when being used.

Rotation of the superstructure of a power shovel on the vertical shaft in the mounting.

To rotate a revolving shovel on its base.

McGraw-Hill Dictionary of Scientific & Technical Terms, 6E, Copyright © 2003 by The McGraw-Hill Companies, Inc.
swing
The action of a door's movement, usually on hinges or pivots, about a hanging stile.
McGraw-Hill Dictionary of Architecture and Construction. Copyright © 2003 by McGraw-Hill Companies, Inc.
swing
i. An uncontrolled turn on the ground either on takeoff or, more often, on landing in a tail-wheel aircraft. Also called a ground loop
ii. To turn a propeller by hand to start the engine.
iii. To calibrate compass deviation by recording its values at predetermined intervals and correcting the deviation to the extent possible.
iv. The sudden yaw of a multiengine airplane when one of the engines, especially the one away from the centerline, fails.
v. In aerial photography, it is the angle measured in the plane of the photograph from the positive y-axis clock-wise to the nadir point.
An Illustrated Dictionary of Aviation Copyright © 2005 by The McGraw-Hill Companies, Inc. All rights reserved
Swing
(programming)

Java

's

graphical user interface

(GUI) package that provides a large collection of widgets (buttons, labels, lists etc.) that behave similarly on different platforms. Swing features "pluggable look & feel", allowing the program to look like a

Windows

,

Motif

or

Macintosh

application. It is implemented using the

Model View Controller

(MVC) architecture and makes extensive use of nested "containers" to control the handling of events such as keystrokes.

http://java.sun.com/j2se/1.3/docs/api/javax/swing/package-summary.html

.

This article is provided by FOLDOC - Free Online Dictionary of Computing (foldoc.org)
Swing
A Java toolkit for developing graphical user interfaces (GUIs). It includes elements such as menus, toolbars and dialog boxes. Swing is written in Java and is thus platform independent, unlike the Java Abstract Window Toolkit (AWT), which provides platform-specific code. Swing also has more sophisticated interface capabilities than AWT and offers such features as tabbed panes and the ability to change images on buttons. Swing is included in the Java Foundation Classes (JFC) which are provided in the Java Developers Toolkit (JDK). See JFC and JDK.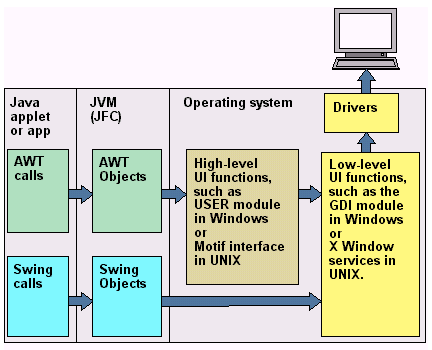 Swing vs. AWT
Swing calls the operating system at a lower level than AWT. Whereas AWT routines use native code, Swing was written entirely in Java and is platform independent.
Copyright © 1981-2019 by The Computer Language Company Inc. All Rights reserved. THIS DEFINITION IS FOR PERSONAL USE ONLY. All other reproduction is strictly prohibited without permission from the publisher.