gorge
Also found in:
Dictionary
,
Thesaurus
,
Medical
,
Acronyms
,
Idioms
,
Wikipedia
.
gorge
1. a deep ravine, esp one through which a river runs
2. the contents of the stomach
3. Archaic the throat or gullet
Collins Discovery Encyclopedia, 1st edition © HarperCollins Publishers 2005
gorge
[

gȯrj

]

(architecture)

The entrance to a bastion.

(geography)

A narrow passage between mountains or the walls of a canyon, especially one with steep, rocky walls.

(oceanography)

A collection of solid matter obstructing a channel or a river, as an ice gorge.

McGraw-Hill Dictionary of Scientific & Technical Terms, 6E, Copyright © 2003 by The McGraw-Hill Companies, Inc.
cavetto, gorge, hollow, throat, trochilus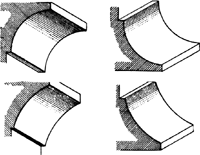 A hollow member or round concave molding containing at least the quadrant of a circle, used in cornices and between the tori of bases, etc. Erroneously called
scotia
, which has a noncircular curvature.
---
gorge
1. In some orders of columnar architecture, a narrow band around the shaft near the top, or forming part of the capital near the bottom; a fillet or narrow member which seems to divide the capital from the shaft.
3. A narrow entry into a bastion.
---
hollow molding, gorge, trochilus
McGraw-Hill Dictionary of Architecture and Construction. Copyright © 2003 by McGraw-Hill Companies, Inc.