grapevine
(redirected from grapevines)
Also found in:
Dictionary
,
Thesaurus
,
Legal
,
Idioms
.
grapevine
1. any of several vitaceous vines of the genus Vitis, esp V. vinifera of E Asia, widely cultivated for its fruit (grapes): family Vitaceae
2. a wrestling hold in which a wrestler entwines his own leg around his opponent's and exerts pressure against various joints
grapevine
A running ornament or carved panel which consisted of grapevines with bunches of grapes and grape leaves; popular in communities along the Rhine and elsewhere in Germany.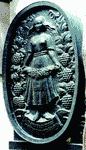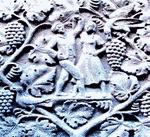 See also: Ornament
Grapevine
A distributed system project.