great-circle course
great-circle course
[

′grāt ¦sər·kəl ′kȯrs

]

(navigation)

Course along the direction of the great circle through the departure point and the destination; expressed as the angular distance from a reference direction, usually north to the direction of the great circle; the angle varies from point to point along the great circle.

McGraw-Hill Dictionary of Scientific & Technical Terms, 6E, Copyright © 2003 by The McGraw-Hill Companies, Inc.
great-circle course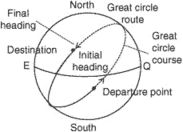 The route between two points on the earth's surface measured along the shortest segment of the circumference of the great circle on which the two points are located. A great circle establishes the shortest distance over the surface of the earth between any two terrestrial points.
An Illustrated Dictionary of Aviation Copyright © 2005 by The McGraw-Hill Companies, Inc. All rights reserved